Cal Fire Releases Recent Fire Causes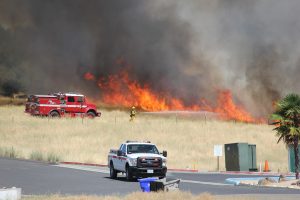 The Reed Fire in San Andreas Photo taken by: Joel Metzger

View Photos
San Andreas, C A –Cal Fire reports sparks from grinding work ignited three blazes in the Mother Lode in the past seven days. Investigators say three people doing metal grinding, which produced a large amount of sparks that landed in dry vegetation, started the fires.
Last Friday, in Calaveras County, the Reed Fire in San Andreas burned 109 acres and destroyed two structures.  The Oak Fire started Sunday on Pool Station Road near Copperopolis, burning 88 acres and destroying one structure.  On Monday,  in Tuolumne County, the Rawhide Fire on Rawhide Road near Jamestown burned one acre.
Fire Captain Specialist Brenton Brown says, "The person in the Reed Fire was grinding some bolts and  as he was cutting off the bolt, the heated metal shavings landed in some dry grass and then spread."
Brown says that man had 45 feet of ground clearance where he was doing the grinding and a water hose, but that just shows how dry it is out there and how far metal shavings can fly. Those involved in igniting the flames could face some legal action, but that will be up to fire investigators.
Brown says, "At minimum some people will probably be seeing bills in relation to the cost of fighting the fires.  Some of the fires did burn across other people's property and they may be seeing insurance claim bills from other people affected by the fire."
Those cost could be thousands of dollars according to Brown.
Cal Fire reports according to California law:
 A minimum 10-foot clearance of all flammable vegetation around the operation area
Maintain a shovel and a backpack pump water-type fire extinguisher in the working areas
In addition, Cal Fire offers these recommendations:
 Projects should be done during the early morning hours.
If the project can be moved inside without the risk of starting a fire, please do so.
If the project can be delayed until conditions are more favorable, that is highly suggested.