Man With Children Causes Mayhem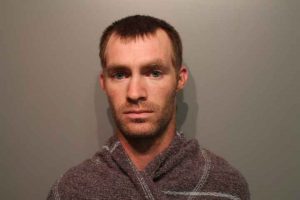 Soloman Fleming

View Photos
Angels Camp, CA — A man from Washington was arrested after causing a dangerous scene in downtown Angels Camp.
The Police Department responded to a report of a man walking through traffic on S. Main Street with two young children between the ages of four and seven. Witnesses said the man was acting irrationally, talking about demons, and hitting passing cars. One person said that a side mirror was completely knocked off their vehicle.
The PD responded and found the man standing in the roadway with the two children. He then picked up one of the kids and took off running. An Officer, and two Sheriff's Deputies, were able to capture the man and remove the child. He put up a fight, and at one point took pepper spray from the officer's belt, before being placed in handcuffs. A passing motorist that saw the fight stopped to care for the children while everything was transpiring. The two kids were later released to the custody of their respective mothers.  Investigators reports that the children's mothers had given Fleming permission to take the kids for a walk. However, they told investigators Fleming was not acting strangely when he left with the children.
One Angels Camp Police Officer was taken to Mark Twain Medical Center to treat injuries stemming from the incident. Two Calaveras County Sheriff's Deputies also had minor injuries.
The man is identified as 24-year-old Soloman Fleming of Tacoma, Washington.
Fleming faces a list of charges related to mayhem, battery on a peace officer, child endangerment and kidnapping. The children are known acquaintances of Fleming, but officials are currently investigating the details of his involvement and actions.
The Calaveras County Sheriff's Office is also assisting with the investigation. The incident transpired on Wednesday afternoon.