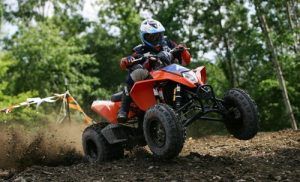 Recreational Off-Highway Vehicles Photo courtesy Washoe County Sheriff's Office

View Photos
Sacramento, CA — You may soon be able to drive certain Recreational Off-Highway Vehicles (ROVs) without a helmet under a bill moving through the Legislature. Former Mother Lode Assemblymember Kristen Olsen authored AB1835, which narrowly passed the Assembly today on a 43-21 vote.
Olsen, now a Republican Assemblywoman of Modesto, says existing law treats ROVs as if they were motorcycles. Instead, she says they are more like golf carts for outdoor enthusiasts.
"This bill will restore personal accountability and freedom to individuals, says Olsen. "While I agree that it is appropriate for government to protect users of ROVs by ensuring certain safety standards are met in the design of the vehicle, it is inappropriate for government to legislate on personal freedoms in the false name of safety."  Olsen also argues that there is no data or studies that show ROV drivers are less safe without a helmet.
Democratic Assemblywoman Bonnie Lowenthal of Long Beach opposed the bill, saying helmets save lives and are recommended by medical associations.