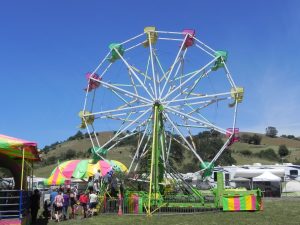 Calaveras County Fair and Jumping Frog Jubilee Photo taken by: BJ Hansen

View Photos
Angels Camp, CA — You can enjoy the rides, a rodeo and frogs at the Calaveras County Fair and Jumping Frog Jubilee this weekend. The event garners more than 35,000 attendees a year and generates nearly 25.5 million dollars in revenues.
Yesterday, the winner of the Calaveras Idol was picked.  He is James Harkins. Runners-ups were Hannah Casillas and Stephanie Jenkins.
The main event is the Frog Jump on Sunday at 3 p.m. An average of 2,000 frogs will hop in hopes of winning the title of longest jump. The top 50 frogs qualify for the International Frog Jump Grand Finals. Rosie the Ribeter set the current world record in 1986. Rosie jumped 21′ 5 3/4″. The cash prize for breaking the world record is $5000. Fair officials say this may be the year that record gets broken because the weather has creating perfect conditions for maximum frog jumping.
Click here for a schedule of Saturday's events.
Click here for a schedule of Sunday's events