Lighting The Golden Arches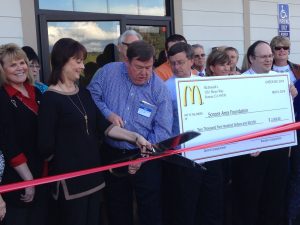 McDonalds Ribbon Cutting

View Photos
Sonora, CA — The golden arches will be lit up and open for business in Sonora on Thursday.
This evening the new McDonalds restaurant at the Mono Way and Sanguinetti Road intersection had a ribbon cutting to mark the event.  This restaurant will replace the McDonalds at the Junction Shopping Center, which had cramped drive-thru conditions.
"Our biggest gain here is the drive-thru," says Dennis Grasspointner the Owner/franchisee. "We felt like our old facility was a little dated and we couldn't handle the drive-thru right.  If folks in town come and look at our drive-thru here, we worked really close with the city and made a very generous drive-thru lane. It can really get the cars in the lane and not back up the shopping center or the street."
Added traffic has been a concern with the new location at a major intersection in Sonora.  Grasspointner stresses there were many traffic studies done for the restaurant and the Mono Way widening project.  He says, "You'll notice with the timing of the traffic lights, there's more often no traffic in front of the place when you think it's going to be difficult to get in and out; so actually the traffic studies seem to make a difference."
The new store has about 60 employees.
Last night McDonalds also gave a $2,500 check to the Sonora Area Foundation.