Learning From Silicon Valley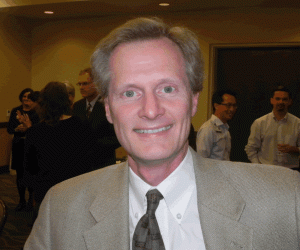 Dr. Russell Hancock

View Photos
Sonora, CA — How can the Mother Lode learn and benefit from the economic successes of Silicon Valley?
That was part of the message from Dr. Russell Hancock, who is the President and CEO of the organization Joint Venture Silicon Valley. He was featured at an Executive Luncheon Series this afternoon hosted by the Tuolumne County Business Council and the Tuolumne County Economic Development Authority.
Dr. Hancock noted why he is optimistic about the future of the Silicon Valley area, in the greater San Jose region. During the past year, 120,000 new jobs were added in Silicon Valley. During the recent economic downturn, Silicon Valley only saw negative job growth in 2009. Dr. Hancock noted the growth of mobile devices, and said that there are currently around 23,000 startup companies (over seven employees) in Silicon Valley, and 15,500 patents were registered last year. He sees growth over the coming years in localized manufacturing, security technology, and the move to have more and more everyday items, like appliances, wired to handheld devices.
He talked about the opportunity that areas like Tuolumne County have, being just outside Silicon Valley.
"You have many assets here, the beautiful landscape, incredible amenities, the lifestyle, and the cost of living," he said. "The fact that you are approximate to the epicenter of technology and innovation, those are all assets you can use as part of an economic development growth strategy."
Dr. Hancock also touted efforts by his organization to find solutions to problems through collaboration and common goals. His group has brought together local government leaders, legislators, business leaders and education administrators. He said it could be modeled in areas like Tuolumne County.
Prior to Hancock's work with Joint Venture Silicon Valley, he was Vice President of the Bay Area Council, and led a campaign to extend BART to the San Francisco Airport. He also previously worked at Stanford University.
There was a packed house for the luncheon at the Black Oak Casino Resort conference room.