Update: PSPS Restoration Continues Tuesday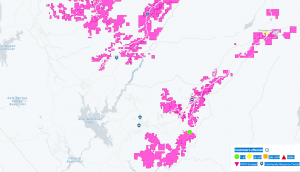 PSPS 10-27-20

View Photo
Update at 5:15 p.m.: This evening PG&E reports that more than 228,000 customers of the estimated 345,000 initially impacted by Sunday's Public Safety Power Shutoff (PSPS) have had their power restored.
Stating that "continued high winds and dynamic weather conditions" delayed the company from issuing the weather "All Clear" for all areas until 1:45 p.m. today. The map in the image box shows that most of the remaining areas without electricity are in Calaveras County along the Highway 4 corridor above Arnold. The utility is targeting late Tuesday evening or early Wednesday morning for their power to be restored.
Inspection crews including nearly 1,800 ground patrol units, 65 helicopters and one airplane have so far confirmed at least 36 instances of weather-related damage or hazards to electric equipment from downed lines and vegetation on power lines. The company details that in Placer County sustained winds of 42 mph were recorded and gust up to 71 mph.
PG&E says if it had not de-energized power lines, these types of damage could have caused wildfire ignitions. By the time the patrols are completed, crews will have inspected over 17,000 miles of transmission and distribution lines.
Original post at 6 a.m. written by BJ Hansen: Sonora, CA — PG&E has restored power to a big chunk of the Mother Lode, and hopes to restore the remaining customers throughout today.
Due to the lingering outages, some schools are again closed today. Click here for the latest information.
Many of the lower elevation customers in the foothills have now been restored. Community Resource Centers remain open at the Mother Lode Fairgrounds, Sonora Elks Lodge, Eproson Park in Twain Harte, the Murphys Fire Station, Chapel of the Pines in Arnold and the West Point VFW building.
Looking at the forecast over the next week, PG&E spokesperson Steve Strenfell says it is good news and bad news. The negative is that no rain is on the horizon, but the positive is that no high winds are projected. No additional PSPS events are predicted over the next week.