Update: Coronavirus Case In Tuolumne County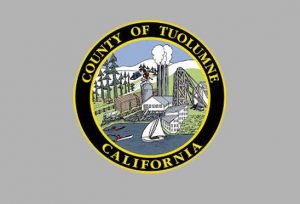 Tuolumne County Government

View Photo
Update at 10:10am: The Tuolumne County Health Department reports that the first person in Tuolumne County who tested positive for COVID-19 is a 31-year-old woman from Mono County.
Updating an earlier report, the public health department states that she is currently being treated at Adventist Health Sonora.
The health department adds, "Preliminary investigations indicate that the patient's exposure to COVID-19 occurred in Mono County then the person traveled to Tuolumne County, then later sought medical care. This case is associated with community transmission in Mono County and was not acquired through local community spread in Tuolumne."
In addition, "Early investigation indicates the patient traveled with a companion who has also developed minor symptoms but is under isolation. Tuolumne and Mono County Departments of Public Health are both working to identify any other potential contacts."
Interim Tuolumne County Health Officer, Dr. Eric Sergienko says, "We must remain ready for additional cases of COVID-19 in our county and work with our partners to rapidly contain any cases that arise. Tuolumne County Public Health staff are coordinating quickly with Mono County on the investigation in order to contain the virus to the case."
We'll pass along more information when it becomes available.
To read the Tuolumne County Health Officer's latest order, click here.
To view an employer screening form, click here.
Original story posted at 7:32am: Sonora, CA — The first confirmed case of coronavirus has been identified in Tuolumne County.
CAO Tracie Riggs reports, "The individual is not a permanent resident but had traveled to a home owned here in the county. The case is associated with an area of Mono County where community transmission is occurring."
Riggs adds, "They self-isolated at their home, therefore, the risk for community exposure is minimal. This means the case will not count as a case for Tuolumne but will count for the county in which they reside."
That said, the person is still in Tuolumne County. "Staff and hospital personnel have put the preplanned protocols in place and are responding accordingly," says Riggs.
Riggs says over the course of the past few weeks county leaders have been working closely with the Interim Public Health Officer, Dr. Eric Sergienko, and other local health partners, to put protocols in place to help prevent the potential spread of coronavirus, as well as to be prepared in the event of a confirmed case, as the county has now.
Riggs says more information will be released by the Tuolumne County Public Health Department later today. We'll pass along more information when it becomes available.