Sonora Local Makes Men's Team USA Softball Team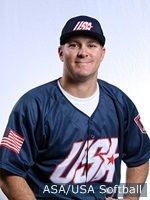 Nate Devine, formerly of Sonora, Team USA Men's Softball Team 2015

View Photos
Sonora, CA – When the USA men's fast pitch softball team plays for gold this summer in two international championships, Mother Lode residents will be able to cheer on one of their own at first base and outfield.
Nathan Devine, one of the 17 athletes and five Californians who won a team spot Jan. 10 at the men's national team selection camp in Irvine, will compete at the 14th International Softball Federation World Softball Championship beginning June 26 in Saskatoon, SK, and at the Pan American games, which run July 12-26 in Toronto.
A native of Sonora and graduate of Sonora High School, Devine, who now lives in the Merced area, holds degrees from Merced College and University of LaVerne and serves as an assistant coach for the Merced College Blue Devils baseball team.
Team USA Head Coach Denny Burkert calls Devine, who has played on the team before "a solid asset" and a leader on and off the field. Burkert adds, "I think Nate's best assets are that he's a very good hitter. He doesn't chase balls. He'll take the walk if that's what they offer to, you know, get on base…I'm really happy that Nate's there…was one guy that I certainly wanted there."
Devine, who played for the US national team during the 2009 world championship games, says, aside from being a tremendous honor, "this year, I really think we have a chance to bring home two medals as well, so that makes it even more exciting."
He adds, "I've been playing for a long time…I actually started playing in high school at Standard Park in Sonora. I've been lucky enough to be on some of the better teams in the world for the club season, so I think that put me in a good situation to be seen by the coaching staff and selection committee. From there, you just have to hope you showed enough to be considered. The tryout had a lot of great players so it was tough for the players and selection committee as well. I just feel really lucky to be a part of the national team program. The players, coaches and administration are all great people to be around. It really makes it a first class organization."
The US men's fast pitch team has won gold five times at the ISF games since the competition began in 1966, the year in which the team first claimed top honors. The last time it stood at the top of the medal stand was in 1988, according to Codi Warren, ASA/USA Softball assistant director of marketing and communications. She playfully points out that, as Saskatoon hosted the competition that year perhaps that will bode well. The ISF games, which were formerly held every four years, are now played every two years.
Burkert says New Zealand, the defending champions, will be the team to beat, along with the teams from Venezuela, Australia and Argentina, and that the US team has a good shot to make the medal stand.
This year's Pan Am games marks the first time since 2003 that the competition will include men's softball along with women's softball, Warren adds. That year, the US men's team claimed silver. A total of six men's teams qualified to compete at the 2015 games. Along with host nation Canada's team, the US team will again face Venezuela and Argentina, along with the Dominican Republic and Mexico.
ASA/USA Softball was a primary force behind international efforts to bring men's softball to the Olympics and, when it was instituted as an Olympic sport for the 1996 games, helped field the US team three times to gold. The world of softball was dealt a huge blow when the International Olympic Committee (IOC) voted it out of the past three Olympics. Burkert says that women's softball will be included in the 2020 running and that the word on whether men's softball will also be making a comeback will come sometime this summer. Besides the additional prestige for the sport, Burkert says the Olympic dollars are a huge boon to the teams. As he puts it, "It helps the programs quite a bit…more practice time together and they play more together."