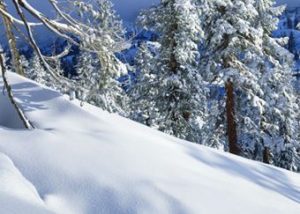 Snowpack

View Photos
Sonora, CA — The Mother Lode is sending a "mixed message" to experts after its first wintry storms of the season about what we might expect for this year's snowpack.
"We have had more than normal precipitation in the important northern California area, where so much of the rainfall eventually makes its way into the state water project," points out California Department of Water Resources Public Information Officer Doug Carlson.
Doug Carlson with the California Department of Water Resources says, "We are running about 146% of average (precipitation) for today's date. However, the storms have been relatively warm so that the snowpack is only about 56% of average for today's date, in late December — so that's a somewhat mixed message…and therefore, we can't really predict that we're going to have a big snowpack until we actually see something developing up there."
Due to the drought, state climatologists would like to see the number remain at around 150% of average to help catch up from three previous dry years.
This year is on track to be the warmest ever in California, as far as record keeping goes back, 120 years or so, according to Carlson. He admits, "With the warm temperature comes the expectation that the snowpack will be reduced, compared to what it might be if we did not have the warm temperatures, so it's sort of an unknown area that we're in right now."
Referring to the recent water shortage figure of 11 trillion gallons that state experts estimate California currently needs in order to recover from the drought, Carlson is rueful. "I can't put my head around that — but it's a lot of water — that we are short right now. And that's why we're saying, if we could just take a look at 150% as a reasonable target that we can get our head around, that's what we are hoping to see perpetuate throughout the rest of this water year."