Mother Lode Resources 'Newly Rich(er)'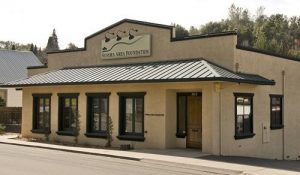 Sonora Area Foundation

View Photos
Sonora, CA –The coffers of an expanding local crisis center and community support program are now $50,000 richer — and youngsters who might otherwise not get a chance to will enjoy a free ride on Railtown 1897's new Polar Express.
Sonora Area Foundation, which channels donors' charitable contributions to worthy projects throughout Tuolumne County, also funded four other causes in its most recent round of awards. One is a first time grant of $15,000 to Spiritual Roads to help fund meals and resources at weekly addiction meetings.
According to Executive Director Ed Wylie, the Center for a Non Violent Community (CNVC), serving the region since the 1970s, will use its $50,000 foundation grant to effectively build out its capacity, bridge to a shared leadership model between three directors, and provide essential staff training and program support.
Wylie says, "They have done a lot in the community and they have been going through some pretty significant changes in the management structure…So, after reviewing the application, the board felt that this was something that they really needed to be able to help out with, because of the success that CNVC has had over the years."
Fun Funded Aboard The Polar Express
At an estimated cost of $10,000, the board decided to make the new Polar Express attraction at Jamestown's Railtown 1897 available to area children during a special inaugural run.
As Wylie explains, "We got to talking internally, and talking within our board, about the number of kids who might be out there, that either could not afford for their families to go on the ride or wouldn't be able to do it for some other reason, that we wanted to provide that opportunity."
The grant will pay for 90 Tuolumne County children, between the ages of 3 and 5 (each riding with a responsible adult) to ride the Polar Express on its scheduled "dress-rehearsal" run on Wednesday, Dec. 3, at 6 p.m.
Riders will be chosen through a drawing. Entry forms, available through the foundation and a variety of local social service providers, must be completed and returned by Nov. 17.
Kid-centric Programs Get A Boost
The free and open to the public LWC (Little Women's Club) Enrichment Program for Tuolumne County Kids, now open to boys as well, will use a $8,680 grant to continue offering lifelong learning activities, new skills-building and hobbies.
The Dec. 13 children's holiday party at the Mother Lode Fair Grounds received $4,800 from the foundation. "They are coming up on their 32nd annual party this year and we've been providing assistance to them for a number of years," Wylie explains. The monies will help provide gifts, refreshments and entertainment for approximately 1,000 area children of limited means.
The Sonora 49er Rotary Club received a one-time check for $5,000 to support an ongoing program that provides dictionaries to local third graders and water safety swim books to kindergarteners.
According to Wylie, the board, which meets monthly, awards grants every other month. He says they generally receive about 45 applications per year and, from that, fund approximately 30. For more information on grant applications or establishing of a donor fund, click here.