Don't Let Dusty Roads Get You Down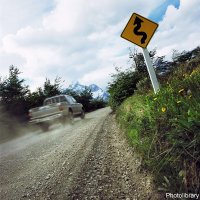 (ARA) – Face it — dusty, unpaved roads are a way of life for rural and urban dwellers. In fact, according to the Bureau of Transportation Statistics, in 2005, over 1.4 million miles of public roads in the United States were unpaved — more than 1,800 times the length of California.
The fine dust particles that blow off gravel roads and construction areas are a nuisance to local residents, but many people aren't aware of the health and safety concerns associated with dust pollution — or that there are some efficient and cost-effective ways to combat the dust.
Why Dust is an Issue
Dusty roads can cause problems for nearby residents and affect local transportation. For example:
Dust from unpaved roads often makes its way into nearby homes, worsening symptoms for people with respiratory ailments, such as asthma, and those who are allergy-prone.
Dust particles kicked into the air by traffic on unpaved roads can form dark and dense dust clouds, severely limiting visibility and making driving unsafe.
When the top-most dust layer blows off road surfaces, the larger, abrasive rocks and stones left behind are often thrown into the air, causing cracked windshields, broken headlights, chipped paint and other kinds of wear-and-tear on automobiles.
Dust is an important part of the road structure. If it is blown away, potholes and other kinds of road deterioration can develop that can be dangerous to drivers and costly to repair.
Combating Dust
While paving gravel roads is the surest way to control dust, it is an expensive option for many municipalities and townships with limited budgets. Instead, townships sometimes turn to unprocessed oil field brine, but this requires frequent applications and there is a risk of negative environmental impact from the impurities found in this by-product of oil well operation. Here are some reliable and cost-effective ways to reduce the impact of dust in your community:
Block it out: Keep the doors and windows of your home closed, especially during times of the day when road traffic is high, to help keep the dust particles out. Indoor air filters and purification units can also help control dust in the home.
Reduce driving speeds: Drive at slower speeds on unpaved roads to reduce the level of dust blown into the air by vehicles.
Water it down: Watering down dusty roads can offer short-term relief for mild dust problems by causing dust particles to stick to the road temporarily.
Apply a calcium chloride dust control product: To address more persistent dust control problems with fewer applications, a moisture-thirsty calcium chloride product in either a liquid or flake form can provide a longer-lasting solution. High-performance products like LIQUIDOW liquid calcium chloride or DOWFLAKE Xtra 83 to 87 percent pure calcium chloride flakes from The Dow Chemical Company (www.DowCalciumChloride.com) work by attracting moisture from the air and binding dust particles tightly to the dampened road surface, helping to keep airborne dust at a minimum, even in dry, hot climates. In addition to keeping dust in check, calcium chloride can also reduce grading intervals and the need to replace displaced road gravel.
For more information, visit www.DowCalciumChloride.com
Courtesy of ARAcontent
---