The Hottest Trends in Outdoor Living
Gone are the days when the yard is used for just a few months. Today, the outdoors are an extension of the indoors, with gracious spaces for eating, lounging, and playing year-round. The latest trends in outdoor living have you covered – literally.
Patio covers
Adding a pergola or arbor to your outdoor space can protect you from the elements, giving you year-round access no matter the climate. Add space heaters and ceiling fans to make it even more inviting. Built-in is best, but if you're looking for a more affordable option, head for your local improvement or big box store, where a variety of hard- and soft-top options can easily transform your space and give you the coverage you want without having to hire a construction crew.
Hardscape and Softscape
Interlocking pavestones and large-scale pavers are two notable trends for hardscapes. Stained and stamped concrete also remains popular as a way to achieve a high-end look that mimics stone for a minimal cost.
With droughts continuing in many areas, homeowners are increasingly looking for ways to create a yard that needs less water. One of those ways is getting rid of the grass, which explains the growth of artificial grass products.
"Want a picture-perfect lawn? Maybe fake grass is the answer," said houselogic. "It solves watering, weeding, and fertilizing woes. Synthetic grass for landscaping and recreation is growing 10% to 15% a year in the U.S."
Lounge Space
The outdoor living room has gone beyond being a trend to become a must-have in today's homes.
Comfortable outdoor furniture that looks like it could belong inside, wall-hung flat screen TVs, and outdoor fireplaces create cozy spaces that bring the action—and the family—outside.
See some great ideas for outdoor living rooms here.
Outdoor Kitchens
Outdoor kitchens are another feature that has transcended the idea of being a trend. Today, they are every bit as amenitizied—and sometimes even more—than the indoor kitchen.
"These cooking areas feature all the accessories and niceties of indoor kitchens so you never have to go inside," said Baybreeze Patio. "Refrigerators, grills, smokers, stoves, warming drawers, beer taps, and of course, the kitchen sink ensure outdoor enthusiasts have everything they need to prepare the meal and more.
Water Features
Whether you're trying to drown out street noise, create a Zen space in your yard, or just like the way a fountain looks, adding a water feature is a great way to bring interest and function to your outdoor space.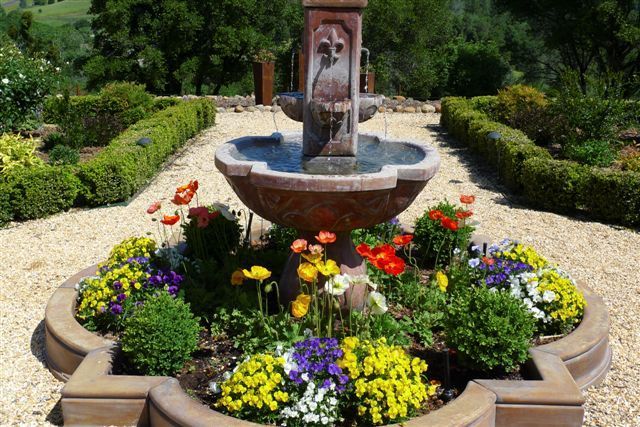 Water features have been steadily growing in popularity over the last few years and are today one of the most requested items in a landscape plan.
"Water features are more popular than ever, from fountains to water walls to serene ponds," said Neave Landscaping. "The sound of water is soothing after a hectic day at work. It masks distracting sounds, like traffic in front of your house, or the neighbor kids' water balloon battles. It attracts birds and butterflies who love to sip and splash in the water."
New Options for Gardening
Edible container gardens including mini fruit bushes and earth tones are two prominent trends in gardening, according to Garden Design.
Neave Landscaping sees a trend in combining elements in the garden.
"Separating flowers from vegetables in your garden is so yesterday. The latest trend is blended gardens that incorporate edibles and ornamentals together," they said. "These double-duty gardens offer a bountiful harvest of fruit, vegetables and herbs while providing intriguing, energized beds. Tuck tomato plants in with your roses. Plant a drift of "Bright Lights" chard — as pretty as any blooming perennial. Mix asparagus or some raspberry bushes into your cutting garden. And chili peppers? They're hotter than ever. Before they end up in your salsa recipe, they're pretty little ornaments to spice up your garden."