How To Handle Tricky Painting Situations
It's great to have straight walls with no funky angles, no funky textures, and no funky decisions that need to be made about where to stop—and start—the painting. But that's rare these days. Whether you have rounded corners and aren't sure where the paint line begins and ends, chair rails or other molding that you're not sure what to do with, or a tray ceiling that's confounding you, we've got the tips to help.
Ready, set, paint.
Weird angles
There isn't one right answer when it comes to painting a room with strange angles. "Even among designers and painters there seems to a difference of opinion of how best to treat angled walls and sloped ceilings," said Linda Holt Interiors.
The designer has provided four options:
"Paint everything wall color except the flat (horizontal) ceiling."
Paint the whole room in one color, including the ceiling. "If your space has odd angles dormers, or unsettling beams…use the same paint or paper on every surface. It will make all the oddities disappear."
Make the angles stand out as "the focal point of the room."
Paint the angled surfaces and the ceiling white, and everything else dark.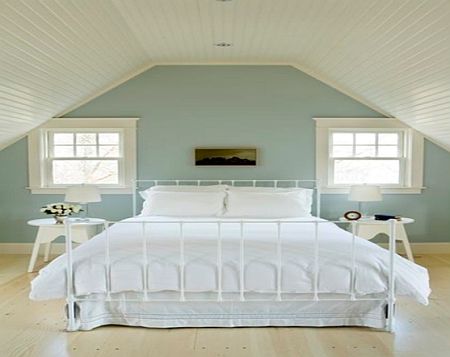 Niches
Niches can pose a challenge. Do you paint the whole thing? Just the back wall? Do I paint the back wall when there are shelves?
Yes.
While painting only the back wall of a niche seems to be a popular choice because it allows artwork or decorative items to stand out, the same can be said of panting the whole thing, depending on the color of the paint and the color and composition of what you are displaying. Same goes for niches with shelves. Painting just the back or the whole thing each provides a distinctive look. It's simply a matter of choice.
See examples on Houzz.
Tray ceilings
Tray ceilings are a great way to add architectural interest to a room, but it can be difficult to figure out how to show them off. And if you have a double tray…well, then what do you do?!
Many designers recommend painting only the vertical surfaces.
"A tray ceiling, also called an inverted or recessed ceiling, features a center section that is several inches (or several feet) higher than the areas around the perimeter of the room," said HGTV. "This design allows for the use of colors painted on the trim that can turn a bland ceiling into a focal point."
Tray ceilings also offer an opportunity to do something truly unique.
"The higher center of the ceiling also provides an opportunity to create a focal point by hanging a beautiful chandelier, pendant light or ceiling fan. The center section is also a great place to paint a ceiling mural. Scenes with clouds or stars are popular, but you can paint any scene that appeals to you," they said. "Painting the center of the ceiling a darker shade will create a look of height, causing that part of the ceiling to recede visually. Paint with a metallic sheen creates depth and warmth."
Rounded corners
"Painting bull-nose corners becomes a home-owner's nightmare when it comes time to replace the inexpensive builder beige with a color palette that includes more than just one color," said Devine Color. "There is a way to do it and make it look wonderful…only stop a corner at a 90-degree angle.
For more details on how to achieve a professional look, check out this tutorial.
Moldings
Crisp crown molding and more intricate applications such as chair rails and panel molding can give a room pizzazz. But knowing how to paint them isn't always easy.
Conventional wisdom says paint them all glossy white. But why not make your moldings a standout in the room? Paint them out the same color as the room, in a complementary color, or in a dark hue one that contrasts with light walls. Or, go crazy with color and create a space that is interesting and innovative.
See more ideas on Real Simple.
Written by Jaymi Naciri for www.RealtyTimes.com Copyright © 2014 Realty Times All Rights Reserved.