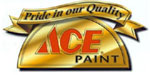 Floor paints, also called deck enamels, are for 'walk-on 'surfaces. Ordinary high-gloss enamel is not suitable. Floor enamels are formulated to withstand weather and wear on wood and concrete. Available in both oil based and latex, the latter dries to a flat finish while most oil-based products dry with a medium- or high-gloss finish.
Oil-based paints are not recommended for many concrete surfaces, especially those in contact with round moisture, such as basements and patios, because they will not adhere to damp surfaces. The alkali in concrete may combine with the oil to form a soap, resulting in poor adhesion, peeling and paint lifting from the surface.
Concrete floors which have been penetrated by oils, gasoline, etc., are virtually impossible to paint because it is extremely difficult to clean these surfaces well enough to make paint adhere.
A final advantage of latex floor paints: The homeowner can lay resilient floor tile without removing the old paint. This is not possible with other floor paints.
Conventional floor paints work poorly on garage floors. Car tires get hot as the car is driven, and when the hot tires come in contact with the floor paint, the paints sticks to the tires and is lifted off.
Many gloss floor paints are slippery when wet and a nonskid additive should be considered.
For home improvement advice, visit JS West Lumber & Ace Hardware Sonora, Ca. or visit www.acehardware.com and click on the Answers@Ace icon. Answers@Ace is an online resource with information for do-it-yourselfers about hardware and home improvement projects. The Everyday Projects section has pictures and detailed, step-by-step instructions for this and many more home improvement projects.
---
To speak to an Ace Hardware advisor in Sonora call: 209 532 7446.
---