Gear Up for Safe Summer Grilling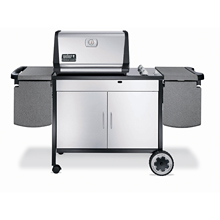 If you're like most self-titled grill-masters, you've already fired up your pride and joy this season: the backyard BBQ. But take special precautions to ensure a season of summer entertaining: practice safe grilling.
Thoroughly inspect burner and gas supply tubes for blockages like spider webs, grease build-up and rust. Check gas hoses for worn or frayed rubber, and replace if necessary.
Make a soap solution by mixing one part water with one part liquid detergent to check if there are any gas leakages. Turn on the gas supply and apply the mixture to gas pipe connections. If soap bubbles appear, you have a leak – repair it before using the grill.
Inspect rock grids and cooking grids for rust and signs of heavy wear. Replace lava rocks once every season or more frequently if grease build-up is an issue.
If you didn't thoroughly clean the grill at the end of last summer, spend some scouring time soon. Soak the main grills, racks, and burner cover in warm, soapy water for about an hour, then use a spatula or sturdy brush to scrape off food particles and grease. Use a wet/dry shop vac to remove additional debris.
Looking for a brand new grill? You've come to the right place. Check out your latest options:
Charcoal, gas or electric: it comes down to preference. Typically, charcoal grills require the most preparation and clean up; electric and gas have easy-start features and do much of the work for you.
More and more mid-range grills are equipped with features once only found in high-end models: food warming racks and bins, storage-maximizing cabinets, built-in lights for twilight grilling, more consistent heat indicators and thermometers, and side burners with higher BTUs.
Shoppers looking to make their outdoor space a true living area might consider a complete outdoor cooking center, featuring built-in grilling stations, stainless steel appliances and other perks. The trend now is to create a 'second kitchen' outside your home.
For home improvement advice, visit JS West Lumber & Ace Hardware Sonora, Ca. or visit www.acehardware.com and click on the Answers@Ace icon. Answers@Ace is an online resource with information for do-it-yourselfers about hardware and home improvement projects. The Everyday Projects section has pictures and detailed, step-by-step instructions for this and many more home improvement projects.
---
To speak to an Ace Hardware advisor in Sonora call: 209 532 7446.
---