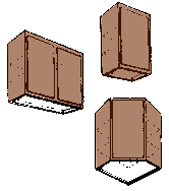 Cabinets can also be divided into basic types. Assuming that you're considering modular (pre-manufactured) cabinets rather than custom, the widths will run in 3′ increments from 9′ up through 36′. The standard height of a base cabinet is 34-1/2′, and the standard depth is 24′.
Wall cabinets are 12′ deep (except for specialty cabinets designed to be installed over the refrigerator), and come in the same 3′ increments. Standard heights are 12′, 15′ 18′, 30′, and 36′. Wall cabinets are installed so the bottom of the cabinet is 54′ above the floor (about 18′ above the countertop). The height you select should depend on your ceiling height and how tall you are-there's no point in buying tall cabinets that reach to the ceiling if you can't get up to get items in and out of the top shelves.
There are four basic types of base cabinets:
A standard base has one drawer, with a door and shelves below.
A drawer base has three or four stacked drawers.
A sink base is open below, with a door below a single false drawer front. In some brands, the drawer front tilts out to provide storage for sponges and cleaning supplies.
A corner base fits in a corner. It may have a lazy susan inside or shelves.
Naturally, there are a wide range of variations on these four basic styles.
Wall cabinets (see image) generally have doors and shelves inside, although lazy susan corner cabinets are also available, as well as a wide range of specialty cabinets that may offer built-in appliance garages, stemware holders and other features. Special wall cabinets are also made for microwave and built-in ovens, range vent hoods and other special uses.
Check your state and local codes before starting any project. Follow all safety precautions. Information in this document has been furnished by the National Retail Hardware Association (NRHA) and associated contributors. Every effort has been made to ensure accuracy and safety. Neither NRHA, any contributor nor the retailer can be held responsible for damages or injuries resulting from the use of the information in this document.
For home improvement advice, visit JS West Lumber & Ace Hardware Sonora, Ca. or visit www.acehardware.com and click on the Answers@Ace icon. Answers@Ace is an online resource with information for do-it-yourselfers about hardware and home improvement projects. The Everyday Projects section has pictures and detailed, step-by-step instructions for this and many more home improvement projects.
---
To speak to an Ace Hardware advisor in Sonora call: 209 532 7446.
---