Love of Western Red Cedar Is a Many-Splendored Thing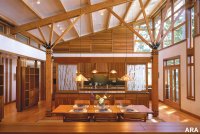 (ARA) – As the song says, love is a many-splendored thing. It comes in many forms for many reasons. It may start because the object of one's love is beautiful. It may grow because the love object has many outstanding qualities and is easy to live with. It may last because it does not fear commitment, but instead makes promises and keeps them.
No wonder so many people have loved Western Red Cedar in so many-splendored ways for so long. From Pacific Northwest native longhouses to luxury contemporary homes, Western Red Cedar has been loved for hundreds of years. Some Pacific Northwest native tribes called it the 'Tree of Life.' Now it might best be called the Tree of Love.
The qualities that spark such affection are many. It's beautiful. It performs outstandingly well. It's low maintenance. It lasts.
Those qualities make it the ideal choice for contemporary homes. 'Western Red Cedar offers endless choices to fit the style of any house,' says Loren Sinner of LS Cedar. For all of those reasons, Western Red Cedar continues to grow as a favorite of architects, builders and homeowners who want to do everything from adding a touch of class to creating an entire home of distinction.
Natural Beauty'Western Red Cedar is simply one of the world's most beautiful woods,' says Paul Mackie, known as 'Mr. Cedar' within the Western Red Cedar Lumber Association. 'No man-made material can duplicate Western Red Cedar's naturally luxurious appearance.'
Western Red Cedar looks great in whatever it wears. Its natural colors radiate warmth. It is free from pitch and resin, making it ideal for a wide range of stains and finishes. Stains can bring new, enhanced hues to the wood. Clear finishes can also be applied to add an extra level of protection without altering the wood's natural elegance.
Superior PerformanceWestern Red Cedar's natural durability makes it the premier choice for siding, decking, outdoor living spaces and other exterior home use. 'When properly installed and maintained, Western Red Cedar can provide a lifetime of service,' says Sinner.
Chalk it up to great genes. Western Red Cedar fibers contain natural compounds that act as preservatives, making the wood extremely long-lasting. These compounds provide natural resistance to moisture, insects and decay.
Its performance qualities make it easy to build with and maintain. The even grain and consistent density mean Western Red Cedar is less likely to swell, warp, cup or twist than any other soft and hard woods. As a result, it retains a distinguished appearance that lends a mark of quality to any home. Light weight and consistency make it an ideal wood to cut, saw, nail, glue and handle — even a handsaw can easily go through the wood.
Sustainability & Environmental ImpactAs our understanding grows of the need to tread lightly on our planet, so does our appreciation of Western Red Cedar's gentle environmental footprint. 'Western Red Cedar is a renewable resource that's also biodegradable and recyclable,' Mackie said.
Western Red Cedar is harvested and reforested in a sustainable, renewable manner unlike other materials — such as metal, cement, stucco or plastic — that must be mined from the earth or manufactured. The environmental impacts of producing Western Red Cedar lumber also are significantly less than for chemically manufactured or milled building products.
Chemical or mineral building materials do not decompose naturally and potentially spend hundreds of years in landfills. As a wood product, Western Red Cedar decomposes and naturally returns to the environment. It also can be reused, whether as beams or particle products.
Western Red Cedar's natural preservatives also mean that it needs minimal chemical treatments, unlike the toxic chemical preservatives used in pressure-treated woods.
A many-splendored thingBuilders and homeowners around the world continue to appreciate the natural beauty of Western Red Cedar. With its deep, historical roots, it's a wood that brings both distinction and heritage to contemporary homes.
What it all means is that love of Western Red Cedar truly is a many-splendored thing. As one line from the Oscar-winning song says, 'Love is nature's way of giving a reason to be living.' Not a bad line for the Tree of Life and Love.
For more information about Western Red Cedar, visit the Western Red Cedar Lumber Association at www.wrcla.org.
Courtesy of ARAcontent
For home improvement advice, visit JS West Lumber & Ace Hardware Sonora, Ca. or visit www.acehardware.com and click on the Answers@Ace icon. Answers@Ace is an online resource with information for do-it-yourselfers about hardware and home improvement projects. The Everyday Projects section has pictures and detailed, step-by-step instructions for this and many more home improvement projects.
---
To speak to an Ace Hardware advisor in Sonora call: 209 532 7446.
---