Problem Hanging Ceiling Fans- Part 6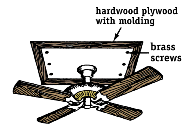 When nothing else works for fan mounting, use a piece of good-looking hardwood plywood as a fan-mount. It should be large enough to extend over two joists. The size may be 18′ x 18′ or 26′ x 26′, or any variant that does the job.
Use brass screws in pilot-drilled holes to attach the plywood to the ceiling joists. The screw length will vary, depending on the thickness of the plywood and plaster or plasterboard ceiling below the joists. Use one screw every 6′.
The plywood will have an access hole of proper size cut in its center, and will serve as the main mounting member for the junction box above it.
Finish the plywood with an outside corner molding, mitered at the corners for a neat appearance (see image).
Or, you can get a surface-mounting fixture box along with a surface conduit wiring system that meets electrical codes. This allows you to do the wiring installation on the ceiling and wall, rather than behind it.
You may wish to wire your new ceiling fan through a fan speed control. This lets you set its operating speed smoothly and easily.
For home improvement advice, visit JS West Lumber & Ace Hardware Sonora, Ca. or visit www.acehardware.com and click on the Answers@Ace icon. Answers@Ace is an online resource with information for do-it-yourselfers about hardware and home improvement projects. The Everyday Projects section has pictures and detailed, step-by-step instructions for this and many more home improvement projects.
---
To speak to an Ace Hardware advisor in Sonora call: 209 532 7446.
---