Decking DIY: Easy Tips for Extending the Decking Season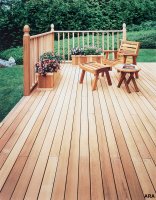 (ARA) – Most people associate spring or early summer with the decking season, but with the advent of backyard decks now becoming outdoor living spaces complete with covered areas, outdoor fireplaces and patio heaters, decking season now spans across several months not normally associated with enjoying outside spaces comfortably.
'Outdoor living spaces are definitely becoming more than simply a summertime spot, we're seeing some homeowners utilize their outdoor areas all year long,' explains Reed Brunson of Weyerhaeuser CedarOne, a primary distributor of cedar material used in and around U.S. and Canadian homes. 'And just like rooms within the house itself, homeowners can easily create an inviting area with a few nice amenities, some small decorative elements and thoughtful planning.'
So when preparing your outdoor living space for the extended decking season, consider the following tips and ideas:
Heating Amenities Abound.
When the evening air turns cool, fire pits, outdoor fireplaces and patio heaters are ideal amenities to warm decking dwellers. These heating elements are an increasingly popular means to extend the enjoyment of outdoor living well into evening, while creating a warm glow for year-around ambience. Patio heaters radiate heat downward to warm a 12- to 20- foot area, and can be located almost anywhere — while outdoor fireplaces provide a relaxing conversation spot for people to gather around. Best of all, heating appliances these days are safe, dependable and easy-to-operate.
Add Occasional Charm.
Adding quality outdoor furniture throughout the space provides a smooth transition between indoor and outdoor spaces, and further exudes how the space is indeed an extension of the home itself. So consider simply changing the furniture cushions to match the current season, it's an easy way of keeping the space festive and inviting.
Additionally, proudly displaying your favorite football or soccer team colors during the season provides a perfect backdrop for the 'big' game. And decking themes are quick and easy to change for any special occasion — holidays, anniversaries, etc. — the possibilities are nearly endless.
Another way to brighten outdoor spaces is to tie-in items from nature appropriate to the season: wheat, corn and pumpkins to celebrate the autumn harvest; tulips and flowers to signify spring. Decorating with all-natural elements merges the space with nature's backdrop, and can be swapped-out with whatever is in season to keep things current.
Deck It Out.
If your outdoor living space needs more than some simple decorations, perhaps a complete renovation or overhaul is in order. While a number of imitation decking products have hit the market in recent years, all-natural Western Red Cedar, like Weyerhaeuser's CedarOne decking, remains one of the most widely favored and versatile decking materials. Many people choose CedarOne materials due to its aesthetic all-natural appeal and physical properties. For centuries, cedar has been known for its exceptional beauty, versatility and longevity — and cedar brings an exceptional all-natural look, aroma and character to outdoor living spaces.
Additionally, cedar materials offer a rare combination of aesthetic appeal and strength. Many choose this wood over others because of its outstanding physical characteristics, including rich color, smooth grain and dimensional stability. Even better, the properties inherent to CedarOne products naturally resist decay. It's also easy to cut, saw and nail with common tools.
To learn more about CedarOne's all-natural Western Red Cedar decking products, visit: www.cedarone.com. To find a dealer nearest you, call the customer service line at (877) 235-6873 (United States) or (888) 439-8822 (Canada), or visit your local home improvement center.
Courtesy of ARAcontent
Courtesy of ARA Content
For home improvement advice, visit JS West Lumber & Ace Hardware Sonora, Ca. or visit www.acehardware.com and click on the Answers@Ace icon. Answers@Ace is an online resource with information for do-it-yourselfers about hardware and home improvement projects. The Everyday Projects section has pictures and detailed, step-by-step instructions for this and many more home improvement projects.
---
To speak to an Ace Hardware advisor in Sonora call: 209 532 7446.
---