Molding and Trim: The Crowning Glory of Any Room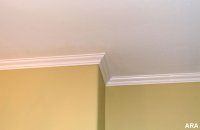 (ARA) – If you're like most homeowners you probably don't think much about trim and crown molding. But walk into a room with crown molding and you will immediately feel you are somewhere special. Trim and crown molding really complete a room that may otherwise seem dull and lackluster.
Baseboards and doorway trim are essential to give a room a finished look. And upscale touches like crown molding can add to the elegance of almost any room. In fact, trim and crown molding is so important that finish carpenters – craftsmen who specialize in making and/or installing room trim – can command high prices for their work.
'The good news is that thanks to some innovative new products, and readily available advice and education, you can fire your finish carpenter,' says trim expert Mike Denny of So-Simple Crown Molding. 'It's easier and more affordable than ever for do-it-yourselfers to install trim, even crown molding.'
Here are facts you should know about trimming a room:
Trim types include baseboards, molding around doors and windows, ceiling trims and crown moldings. They can all be as elaborate or simple as your taste dictates. Most home builders install basic base moldings and door and window trim.
Baseboards or floor trim is both decorative and functional. Installed where the bottom of the wall meets the floor, base moldings anchor a room visually and also protect walls from damage by feet, vacuum cleaners, brooms, mops or other cleaning tools.
The wider the trim, the greater its visual impact on a room. If you are trimming a grand, open space, wide, highly detailed moldings can add depth and interest to the room. Keep scale in mind when choosing the size and complexity of trim.
Crown moldings have long been considered the hallmarks of upscale homes. Historically, builders have marketed these moldings as expensive upgrades and finish carpenters have charged handsomely to install these trims in existing homes.
'Until recently, most homeowners would have hesitated to tackle installation of crown molding on their own,' Denny says. 'Thanks to the growth of the do-it-yourself market, manufacturers, such as SoSimpleCrown, have created beautiful and affordable crown molding that makes it easy for virtually anyone to trim a room themselves.'
Crown molding has entered the realm of the do-it-yourselfers thanks to pre-cut corners. 'Traditional wood crown molding has a reputation as a difficult home improvement project for the do-it-yourselfer,' Denny says. 'Most people are intimidated by the angled cuts required and the tools such as the, nail gun, needed to install traditional crown molding.'
Enter products like So-Simple Crown Molding, a light weight, easy to handle foam crown molding product that looks exactly like real wood crown molding. Much less expensive than wood crown, this innovative molding eliminates two of the biggest challenges of crown molding installation – corner cuts and nailing. With a simple online ordering process, homeowners specify the number of corners in their room and the company pre-cuts the moldings for the proper fit. Precut corners and the molding's light weight means one person can easily install the molding.
Additionally, this product installs with caulk. No nails are required. For more information about crown molding visit, www.SoSimpleCrown.com.
Courtesy of ARAcontent
For home improvement advice, visit JS West Lumber & Ace Hardware Sonora, Ca. or visit www.acehardware.com and click on the Answers@Ace icon. Answers@Ace is an online resource with information for do-it-yourselfers about hardware and home improvement projects. The Everyday Projects section has pictures and detailed, step-by-step instructions for this and many more home improvement projects.
---
To speak to an Ace Hardware advisor in Sonora call: 209 532 7446.
---