How to Avoid Big Homeowner Headaches This Winter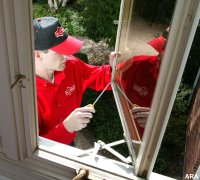 (ARA) – Colder weather will soon be setting in over many parts of the country. For homeowners, this means they'll be facing a long list of home improvement and maintenance activities in preparation for winter. Here are some tips to getting ready for winter.
Already time-starved homeowners can spend countless hours working on fall fix-up projects rather than enjoying what's left of the warmer weather. Add this to the increasing day-to-day activities Americans are facing, such as longer work hours, less vacation time and increased family and personal commitments, and you can you see why there's a growing trend toward finding creative ways to balance work, family and the demands of owning a home.
If homeowners can't find the time to do the projects themselves, it's still best to take some preventative measures or consider hiring a professional now rather than waiting until a problem occurs in the dead of winter.
To help homeowners make the best use of their time and streamline their home winterizing tasks, Mr. Handyman, the largest employer of handymen with 250 locations nationwide, offers the following tips for improving your home's efficiency and avoiding costly winter problems:
Proper Insulation Is Key
Knowing the adequate amount and type of insulation for a home's attic and walls can save homeowners a significant amount of money. Seventy-percent of the average homeowner's energy bills during the winter are spent on electric heating costs, so it's easy to see why one of the biggest mistakes many homeowners can make is not taking the time to properly insulate.
Determining how much insulation you need is the first step. You'll want to consider, among other things, if your home is more than 10 years old, what type of home you live in, whether or not you have cathedral ceilings, if your home has a basement or if it's built on a slab, and how you heat and cool your home.
Also know that not all insulation is created equal. Insulation is identified and labeled by R-value. 'R' stands for resistance to heat flow. The higher the R-value, the greater the insulating power so the colder the climate you live in, the greater the need for a higher R-value.
Crack Open the Caulk
Investing your money in extra insulation for the attic and walls can be a waste of time and money if you fail to properly winterize your windows and doors. Once you've checked for any air leaks or drafts in your windows, apply caulk to seal any potential air leaks. Re-caulking your windows will help keep moisture out of your home. Snow and ice that thaw and then refreeze can wreak havoc if the water seeps into windows and settles on sills and ledges. A fresh lining of caulk will drastically reduce the potential of damaged windows. After caulking, you might want to take one step further and install weather stripping on the windows and doors. This will help further reduce drafts and also protect against water and moisture.
Make Plumbing Paramount
While failing to adequately winterize your windows and doors can potentially cost you a few hundred dollars a year, neglecting to insulate exposed piping can lead to burst pipes, which would cause significant damage to your home. Heating tape should be applied to all pipes that are at risk of freezing. Additionally, all exterior faucets should be drained and have their water source turned off.
Don't Forget the Furnace
One of the simplest tasks that many homeowners overlook is changing the filter in their furnaces. A new, clean filter will help the furnace run more efficiently, allowing more warm air to reach all the rooms in a home and saving homeowner money by reducing heating costs. Because the furnace can run all winter long, make sure to check the filter at least once a month. The simple motto 'change the filter on the first' is a great way to develop a pattern for checking the quality of the filter.
While these tips don't cover all the tasks that need to be completed to properly winterize your home, they should give you a good head start this fall. Remember, sufficiently winterizing your home does take time and money, however it will not only improve your quality of life in the short term, but in the long run will add value to your home.
For more information on Mr. Handyman services available in your area, log onto www.mrhandyman.com, or call (877) 674-2639.
Courtesy of ARA Content
For home improvement advice, visit JS West Lumber & Ace Hardware Sonora, Ca. or visit www.acehardware.com and click on the Answers@Ace icon. Answers@Ace is an online resource with information for do-it-yourselfers about hardware and home improvement projects. The Everyday Projects section has pictures and detailed, step-by-step instructions for this and many more home improvement projects.
---
To speak to an Ace Hardware advisor in Sonora call: 209 532 7446.
---