Home Decor Trends Help You Create the Perfect Style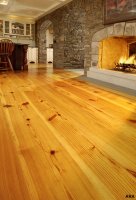 (ARA) – There is a growing discontent among homeowners that has spurred a new trend in home remodeling. Homeowners are realizing that as they have matured their lifestyles and tastes have dramatically changed, leaving them feeling less comfortable in their houses. By using decor elements that better reflect their personalities they are transforming their houses into homes once again.
'Newly remodeled homes are now being created with a personal connection,' says Chris Sy of Carlisle Wide Plank Floors. 'As part of a growing revolt against the tract homes of the 1980s, people are creating homes that take on the look and feel of their own personalities. There are a variety of options to reflect individuality; options that are rooted in history — such as flooring made from wide pine planks with antiqued nail holes — they have an historical feel.'
The traditional, lived-in feel can also be captured by the use of accessories made with hand-distressed wood. Solid distressed kitchen cabinets and doors make a statement of history and add warmth when hung. The same can be said of beams and paneling crafted in traditional styles. Adding more real wood and natural materials adds substance and style you can't achieve with other materials.
Today designers and homeowners alike will take the most rustic wood and use it in an upscale city dwelling or the most formal wood and use it in a rustic cottage. It's all about the individual and his/her lifestyle. You can further accentuate personal style by choosing wood in select, premium and country grades depending on how much character — grain, knots, cracks or holes — you desire. With so many options to reflect individuality, from the wood type, to grain, texture and stain colors, your decor can be completely your own style.
All of Carlisle's antique wood floors are certified by the FSC as 100 percent post-consumer reclaimed antique wood. Using this wood builds an emotional connection with the homeowner, produces a uniquely aged look and texture, and makes less of an environmental impact.
'The FSC chain-of-custody allows Carlisle to produce an historical portfolio with facts about ownership. If it came from a dairy barn, for example, the address of the barn is included, as well as any other details that are available such as when it was built, the owners' names, dates they lived there and when it changed hands,' explains Sy. 'Knowing where your wood came from adds value. It lets you feel closer to it and creates a very interesting topic of conversation whenever guests visit.'
History has a relationship with style. Out of varied histories from coast to coast, come regional design trends. In the northeast, the trend is toward floors as they appear in 200-year old homes: traditional, colonial, authentically antiqued wide planks are the popular choice. The wider the plank, the older the house — for a more established 'old' look in a new floor, you can use customary white pine, with knots that add character, for the feel of pure authenticity.
Throughout the Rocky Mountain region, lodges and large log homes with Southwestern decor stick to authentic antiqued hardwoods for an unmistakable look and feel. Mountain cabins have a lot of character. Adding new wood that is hand- sculpted, or antique wood that has natural character lends to the authentic Southwestern style. And in California and the West Coast, the hand-distressed, hand scraped hardwood floors with texture are popular. 'The overall national trend at play is that larger dimension planks are being used when replacing floors,' continues Sy. 'People are using wider, longer boards. 5- to 10-inches wide is the average range of plank.'
Plank floors offers such a diversity of wood species and floor styles that no matter where you live or what kind of look you want to create, they have a hand crafted, solid wood floor that fits your personality and lifestyle. With a range that includes everything from hardwoods, antique and milled barn woods to South American exotic woods, you're sure to find the style and character that suits the personality of your home.
For more information about FSC certification and green building, visit www.FSC.org. For more information about Carlisle Wide Plank Floors visit www.WideplankFlooring.com or call (866) 595-9663.
Courtesy of ARAcontent
For home improvement advice, visit JS West Lumber & Ace Hardware Sonora, Ca. or visit www.acehardware.com and click on the Answers@Ace icon. Answers@Ace is an online resource with information for do-it-yourselfers about hardware and home improvement projects. The Everyday Projects section has pictures and detailed, step-by-step instructions for this and many more home improvement projects.
---
To speak to an Ace Hardware advisor in Sonora call: 209 532 7446.
---