Feed Your Feathered Friends All Winter Long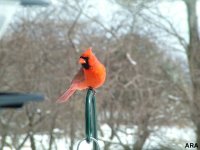 (ARA) – What winter traveler can resist the attraction of a small cabin deep in snow-swept woods at dusk, lit and warmed by a crackling fire and framed by two overstuffed chairs and a tray of snacks on the hearth? Indeed, a welcome sight on any blustery evening. This could be the site of a well-stocked bird feeder to the feathered visitors of our wintry backyards.
Winter provides a unique opportunity to attract various wildlife to your yard while lending the chance to be a small but integral contributor to the local food cycle.
The winter view from your home does not need to be bleak. As you move indoors for the season, the time is right to either place or reposition backyard or porch bird feeders within an easy sight line of windows to provide comfortable inside viewing of birding activity. Providing more than one type of feeder at differing heights will invite a greater variety of birds. For example, a raised feeder, five to 15 feet above the ground, will attract evening grosbeaks and finches, while feeders closer to the ground tend to draw doves and sparrows.
Whatever the season, however, always remember to consider the ever-present competition from the local squirrel population for the food you put out. Descending chain feeders are a more ready squirrel deterrent than poled platform feeders. Regardless of the feeder you use, you can often retro-fit a variety of squirrel guards to your feeder to tilt the food competition toward your small flying friends.
Once you have positioned your feeders for easy viewing from the inside, then comes the all-important enticement of food. Not unlike us, different foods attract different types of birds. And higher quality foods lend even more reason for feathered visitors to make your feeders part of their daily stops.
When considering what type of foods to put out, try to stay away from common generic mixes. Lower-priced mixes are often not a bargain, as they contain various fillers, like red milo, which almost all birds discard. Buying higher-quality seed mixes or individual seeds that end up being a complete food to birds are the best value. Sunflowers are a universally popular choice. They attract cardinals, woodpeckers, blue jays, goldfinches, purple finches, chickadees, titmice, and nuthatches. Black sunflowers are a particular treat for birds, as the oilier shell is easier to crack and they are also usually cheaper than the traditional gray and white striped sunflowers we most often recognize.
The use of safflower seed will further differentiate your visitors as this small white seed attracts chickadees, downy woodpeckers, cardinals and titmice, while repelling grackles, blue jays and starlings who often keep smaller birds away from feeders. Another excellent individual seed is niger or thistle. While this seed is a bit more expensive, it provides a high-energy meal full of oil and calories. Thistle is often the meal of choice for finches, one of the most colorful of birds to observe. If you don't want to mess with putting out individual seeds, the best option is to simply buy a good premium blend of wild bird seed. Premium blends contain quality ingredients and are an appealing food source.
'Providing high-energy bird food is more critical in the winter, when natural food supplies are not as accessible, and no food is better suited to high-energy winter feeding than quality suet,' says Tony Vahedian, vice president of ScottsMiracleGro's wild bird food division. Suet is a high-fat food that is readily affordable in various size cakes and easily inserted in matching wire-mesh feeders to keep larger tree animals out. Scotts Songbird Selections suet, available in February 2008, is an example of a new high-quality suet bird food. You can be sure to see colorful woodpeckers and blue jays visiting your suet feeders.
Finally, if you like to attend to your feeders daily, remember to sprinkle affordable white millet along the ground and you'll be sure to spot snacking mourning doves, sparrows and juncos.
Winter doesn't have to be a dreary, bleak landscape outside our windows. This year, provide some winter entertainment by making your yard like that little cabin in the woods — an enticing stopover spot for the nourishment of our feathered backyard friends.
For more information on bird feeding, visit www.scotts.com
Courtesy of ARA Content
For home improvement advice, visit JS West Lumber & Ace Hardware Sonora, Ca. or visit www.acehardware.com and click on the Answers@Ace icon. Answers@Ace is an online resource with information for do-it-yourselfers about hardware and home improvement projects. The Everyday Projects section has pictures and detailed, step-by-step instructions for this and many more home improvement projects.
---
To speak to an Ace Hardware advisor in Sonora call: 209 532 7446.
---
---