Installing Timer Switches in Outdoor Lighting- Part 7 of 7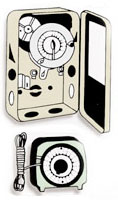 Many of the newer outdoor lights come equipped with photoelectric eyes or motion sensors, or both. The photoelectric eye turns the light on in the evening and off in the morning. The motion detector turns the light on when it senses motion in the range of the detector. If your light does not have this type of control built in, you may wish to add a timer, photoelectric eye or a motion detector. These devices allow for automatic operation and a greater sense of security.
Permanent timer switches are readily available and can be pre-set for any on/off times (see image). Follow the manufacturer's instructions carefully when installing a permanent timer switch.
You may also use portable timer switches with plug-in equipment for outdoor lighting. Use this type of timer switch as you would any other appliance.
Check your state and local codes before starting any project. Follow all safety precautions. Information in this document has been furnished by the National Retail Hardware Association (NRHA) and associated contributors. Every effort has been made to ensure accuracy and safety. Neither NRHA, any contributor nor the retailer can be held responsible for damages or injuries resulting from the use of the information in this document.
For home improvement advice, visit JS West Lumber & Ace Hardware Sonora, Ca. or visit www.acehardware.com and click on the Answers@Ace icon. Answers@Ace is an online resource with information for do-it-yourselfers about hardware and home improvement projects. The Everyday Projects section has pictures and detailed, step-by-step instructions for this and many more home improvement projects.
---
To speak to an Ace Hardware advisor in Sonora call: 209 532 7446.
---