A Luxury Basement Addition that Doesn't Break the Bank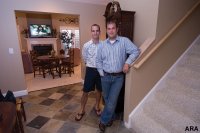 (ARA) – In today's homes, 'comfort' and 'serenity' are the hot new watchwords. From simply using more tranquil paint colors to the more ambitious addition of meditation and luxury spa retreats, the pursuit of well-being is increasingly figuring into the plans of American homeowners.
Fortunately, installing luxury bath fixtures in these new-age havens is a snap when Saniflo above-floor plumbing is used. Because Saniflo's plumbing technology is unique, you can round out your new retreat with a full bath, a lavish steam shower, even a spa, anywhere in your home – without digging up the floor to install piping. Saniflo's no-fuss construction lets you create your in-home sanctuary quickly, without breaking the bank.
Smarter AlternativeConventional plumbing is messy, time-consuming and costly to install. Saniflo manufactures a smart alternative that homeowners love: macerating plumbing systems. This above-floor plumbing technology can be used for toilets, sinks, tubs and spas, making it easy and cost-effective to enhance a fitness or yoga room or a meditation retreat – even in basements and garages where conventional plumbing renovations are cost-prohibitive.
Using Saniflo saves homeowners big bucks. When Duane Enoch and Daniel Pitman (photo) renovated the basement in their Brentwood, Tenn., home, they chose Saniflo to outfit not one, but two luxury baths. 'Initially, we had a plumbing contractor come out and quote us a price to rough in conventional, below-floor drain lines,' Enoch explains. 'Going with Saniflo probably saved us ten grand.' Their newly finished basement includes a living room, a kitchen, a laundry room, two bedrooms and two baths. 'I see a lot of basements in my work,'