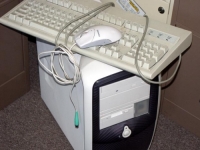 In today's technology driven economy, personal computers are as common as televisions. However, moving your personal computer requires more preparation than moving that 27-inch TV in your bedroom.
There are general steps that everyone should take before attempting to move a personal computer. By following some simple procedures, you will protect your computer from physical damage and save your self a substantial amount of time and money.
Back Up All Important Data and Files
Make backup copies of all of your data and files stored on your computer. Transferring your files to a temporary external storage device, burning a CD of all your data, or copying your files onto floppy disks are your best options. Once you have completed this task, store the copied data files, along with program software, in a separate sturdy container away from the computer unit. While the physical replacement of the hard drive is a relatively simple procedure, replacing the data may be very difficult or impossible. It is also a good idea to consult the owners' manual for additional recommended procedures.
CD Drive and Floppy Disk Drive:
After you made backup copies of your data files, make sure that you remove all CD's and/or floppy disks from your computer. Leaving them in their respective drives may damage your computer in the event they are jarred out of place during the transport of the unit.
Packing the Computer for Shipping:
If you still have the original packaging in which your computer arrived, use it because it was especially designed for your unit. If you do not have the original packing materials, consider taking your computer to a professional packing center. You may also check with your carrier and see what options are available to you for having your computer professionally packed.
Moving the Printer
Again, original packing materials are your best choice for securing your printer for transportation. If you have a printer that uses a powder based ink, such as a laser printer, remove the cartridge that contains the ink, so that the ink does not damage the unit. Consult the printer owners' manual for additional recommended procedures.
Cables and Other External Devices:
In addition to the cables, your computer may be connected to a number of other external devices. It is a good idea to label the various connection wires by indicating what each wire connects to the computer. By labeling the wires, setting up the system at the new location is going to be simpler. Once you have labeled the wires, place them with the appropriate device or in a separate box. The box containing the wires should be clearly identified and stored with the rest of your system until it is ready to be moved.
Courtesy of www.hhgfaa.org
---