Floored By Old Decor? Step It Up With These Hot Trends!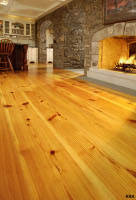 Flooring can be one of the easiest ways to give your home a new and improved look. But it can be expensive, which is why it's important to choose wisely so that you don't get stuck with something you'll soon rip out.
Pulling out old flooring and putting in a stylish, comfortable floor can spice up an old home instantly. Before you get to the fun part — choosing colors, textures, and types of flooring — take into consideration what you expect from the flooring.
For instance, if you're re-flooring your kitchen, make sure you opt for something that is water resistant and can handle spills. In the hallways and playrooms, you're likely to be more concerned with a floor that can help absorb noise. Also, think about how long you might be standing on a floor in a particular room such as the kitchen. If you're cooking and doing dishes while standing on a very hard-surfaced floor, you're likely to get tired more easily than if you had a vinyl or softer-based floor.
Carpet never goes completely out of style. 'Carpet fits everyone's budget. It's very versatile. It can go many places and it's a very environmentally-friendly product,' says Sean Moran, sales representative for San Diego Carpet One.
Moran says, today though, customers are skipping things that used to be popular. 'No more borders, no multi-colors in rooms, and not a lot of custom inlays in carpets any more,' says Moran. However, patterns are growing in popularity.
According to Moran, the biggest interior design faux pas is blue carpet. 'I've never seen a color die so fast in my life. Nobody likes blue carpet,' says Moran.
What is hot? Designer carpeting. 'We sell a line sponsored by the designer, Liz Claiborne,' says Moran.
Also, natural fibers such as wool are being requested more frequently. 'It's very durable, pretty stain resistant and it's got a really nice soft look that comes in lots of patterns,' says Moran.
Hardwood: 'It's sustainable because it's re-finishable. When the hardwood begins to show signs of wear, you can have the hardwood refinished in your home. It brings it back to new again and you can have 10 to 20 more years of life wear on that floor. It's also very luxurious and has a great look,'
What's hot? 'People are starting to get more toward the middle ground. I think the really heavily distressed, heavily-beveled hardwoods make people afraid they will look dated in about five or six years,' says Moran.
Instead, they're opting for less distressed wood that has a smooth finish and nice quality wood. Moran says hardwood is also being installed more frequently in kitchens to create a more elegant look.
Cork: Cork flooring has been around for about 30 to 40 years. 'It kind of fell out of favor when vinyl became so popular but now that people are looking at environmentally-friendly floor covering, they're returning to cork,' says Moran. He adds, 'Cork is a product of the cork oak tree, most of the quality cork is imported from Portugal or that part of Europe.' The bark is harvested off of the tree and then it is turned into cork flooring and things like wine corks. 'The tree stage regenerates the cork for future harvesting,' explains Moran.
Cork can be put in nearly every room of the house and helps to absorb sound better than wood, tile, or stone flooring. 'It goes over almost any type of floor covering except for carpet and it's very easy to install,' says Moran.
Laminates: 'They act a little bit like cork flooring — they're pretty forgiving — as far as what you're going to put them over the top of and they're very durable and scratch resistant,' says Moran.
Laminates are also highly liked for their easy maintenance. All you have to do is use a neutral pH laminate cleaner on it.
'The nice thing that they have done with laminates in the last couple of years is make them so they really mimic wood,' says Moran. He adds that laminates also come hand-scraped and distressed just like real wood.
Tile: While tile may seem like it's an extremely noisy option, there are underlayments that can be put down beneath the tile to help absorb sound between floors which can help reduce noise from different levels of the homes. However, this won't make a tile floor any less noisy when someone is walking on it in the same room.
'We're still getting a lot of calls for ceramic tile,' says Moran. But he says that porcelain is actually harder than ceramic. When porcelain chips it doesn't reveal the red clay underneath it like ceramic does. Porcelain can be used both inside and outside the home.
A critical change in tile is the size. 'People are looking for bigger tiles now. In larger spaces, they're going 18 x 18, 20 x 20, and even up to 24 x 24,' says Moran.
The bigger the tile, the less grout, and ultimately the easier it is to care for the floor.
The bottom line is your flooring is likely going to stay in your home for many years so take your time and choose carefully.
Written by Phoebe Chongchua for www.RealtyTimescom. Copyright