What to Do When Your HVAC System Breaks Down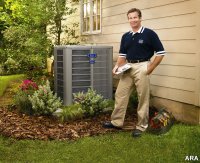 (ARA) – It's a home comfort emergency. Your air conditioning system breaks down in the middle of a heat wave, or your current heating, ventilation and cooling (HVAC) system sounds and feels like it's on its last legs. When you need to replace your system quickly, what should you do?
The folks at American Standard Heating & Air Conditioning offer a list of things to consider when you need to replace your home comfort system in a hurry without getting worried.
Choose the right HVAC dealer.

The most important step is finding someone you can trust to provide expert advice and properly install your new system. When selecting the best professional dealer, ask friends and neighbors for a recommendation, check credentials through the Better Business Bureau and learn about the dealer's credentials and services, including whether removal of old equipment is included. Some dealers also have North American Technician Excellence (NATE) certification, confirming the highest level of training for installation and service.

Get an in-home assessment.

Before any professional dealers can share a solution, they need to diagnose the situation and understand your family's comfort needs. The dealer should conduct an in-home assessment to determine the right system that will deliver the greatest comfort and energy efficiency for your home. This includes asking questions about your lifestyle and comfort requirements, checking your insulation, ductwork and building materials, and measuring your windows and rooms.

Ask about a matched system.

In a matched system, indoor and outdoor units are integrated to give you the best comfort and efficiency. For example, the indoor unit — either a furnace or air handler — works in conjunction with the outside unit such as an air conditioner or heat pump. Matched systems are quieter, more reliable, more efficient and last longer to make the most of your investment.

Some matched systems also offer added convenience and comfort through built-in technology that allows all HVAC components to 'communicate' with each other. For example, the American Standard Heating & Air Conditioning AccuLink system ensures all components are automatically and properly charged, configured and calibrated for sustained reliability, peak performance and energy efficiency. In addition, the AccuLink communicating system also provides homeowners with remote telephone access to their system, meaning they can adjust temperatures and control the system whether they are home or away.

Add an air filtration system.

If you have family members with allergies or asthma, or if you want to improve the indoor air quality in your home, consider adding an air filtration system to your furnace or air handler. Most systems have only a standard one-inch air filter that simply protects components from clogging. A whole-home air cleaner, like the American Standard Heating & Air Conditioning AccuClean, removes up to 99.98 percent of dust, pollen, bacteria and pet dander from your filtered air — making it 100 times more effective than a standard throwaway filter. In addition, it removes more than 99 percent of the influenza A virus from the filtered air your family breathes.

Ask about extended warranties and financing options.

Many dealers offer financing options that fit your budget. In addition, understand the limited warranties that come with your new equipment and how you may extend the warranty coverage on parts and labor to provide further peace of mind.

Plan ahead.If your furnace, air handler, air conditioner or heat pump is eight years or older, it may make sense to replace them with more up-to-date models — before they break down. Recent increases in government efficiency ratings mean that the new systems may help you increase your family's comfort while decreasing your home's energy costs.
For more information on choosing an HVAC system or to find an American Standard Heating & Air Conditioning independent dealer near you, visit www.americanstandardair.com.
Courtesy of ARAcontent
---