'Friends' Fill Animal Services Funding Gaps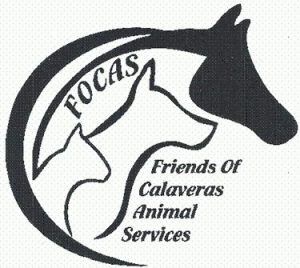 FOCAS logo

View Photos
San Andreas, CA — With help from friends and an infusion of community funds gaps in animal shelter care are filling.
Friends of Calaveras Animal Services (FOCAS) spokesperson Kim deArrillaga says she is excited to share the group's progress and the news that it received a $10,000 grant from the Calaveras County Community Foundation for a newly inaugurated Return to Field (RTF) feral cat program.
Established in 2014 and certified as a 501(c)3 nonprofit the following year, FOCAS funds immediate needs of the animals at the Calaveras County Animal Services shelter. Among the expenses, it has contributed to are spaying and neutering, emergency and other medical needs, vaccination clinics, and adoption events.
Now that Calaveras Humane Society (CHS) is no longer on the Calaveras county government center campus adjacent to Animal Control Services and is busily working to open its own shelter, deArrillaga notes that FOCAS has stepped in to cover a variety of shelter programs CHS is no longer funding.
Among these are sponsoring euthanasia costs for residents who cannot afford to euthanize their pets due to old age or illness, the Margaret Blair Second Chance program, transportation of animals to other shelters and rescues, and promoting adoptions for residents 55 and older.
FOCAS considers its acquisition, transport, and rehabilitation of the county's two Cat House buildings among its biggest successes to date. "From the inception of the county shelter, the dogs and cats were housed together – not the most ideal situation and extremely stressful for the animals," deArrillaga comments. "The Butte Fire necessitated moving the cats into the new buildings slightly sooner than planned, but these buildings have been instrumental in more cats being adopted and reducing the euthanasia rate of the feline population at the shelter."
Finding Workarounds, Funding Feral Cat Program  
"One of the biggest issues with the county shelter is the lack of space. A new shelter is desperately needed and hopefully will be realized at some point in the future, but for the time being it's a tough situation," deArrillaga laments. "The transport of animals to other shelters to increase their chance for adoption has helped greatly, but that is not workable for feral cats — and due to the space limitations at the shelter, they cannot keep feral cats for any length of time."
According to deArrillaga, recently FOCAS received a request to support a Return to Field (RTF) program, similar to the program run by Amador County Animal Services, and jumped at the opportunity. "We met with the CHS Feral Cat program Team Leader, Kathy Arentz, Susan Manning of APal, and Kelly Reason, head of Amador County Animal Services to discuss the logistics and estimated costs…Amador County has been doing this program successfully for some time and offered to help Calaveras get this program up and working -– a partnership at its best!"
The Return to Field program is for cats trapped by residents and brought to the shelter. Often these are feral cats but may also include abandoned domesticated felines or those without good socialization. "This is such a beneficial program, not only for the cats, for the residents near and around the feral colonies," she says happily.
Once trapped, cats brought into Animal Services receive FOCAS funded spay or neutering and rabies vaccinations with medical care provided on a case-by-case basis based on funding availability.
"Another component of this program is the educational piece for those do not want the cats returned to the area in which they were trapped," deArrillaga explains. "There is actually a huge benefit to returning these cats after sterilization. The rodent and snake population will decrease, the colony population will remain stable — since they won't be breeding."
If not returned to their original feral colony area, she says a new colony of cats will move in and the problem will only continue to grow. "This program greatly benefits the residents of the neighborhoods with these feral cat colonies, so if you have feral cats in your neighborhood and are interested in the RTF program, please contact Animal Services at 209 754-6509," she suggests.
For more details about FOCAS, click here