Tuolumne Sheriff's Deputies Provide A Slam Dunk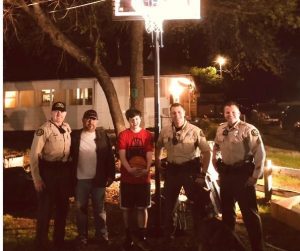 Tuolumne Sheriff's Deputies Surprise Jamestown Teen
Sonora, CA — A local youth was surprised yesterday when Tuolumne County Sheriff's deputies showed up at his home with a new basketball hoop.
The sheriff's office reports that Deputy Cody Skellenger had driven by the boy's Jamestown home many times during his patrol and saw him regularly playing ball with a broken hoop.
Deputy Skellenger decided to go out and purchase a new one, and a group of deputies showed up at the home to install it. The teen, who was not identified, stated, "I can't believe you guys did this. I'm still in shock."
After assembling it, the deputies stayed for a little one-on-one. Click on the video box to see a short recap of the night.