Murphys Hotel Featured On FOX Show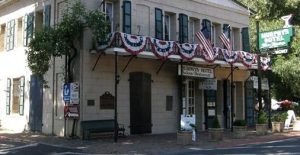 Murphys Hotel, downtown Murphys, California

View Photos
Murphys, CA — There is some activity at the Murphys Historic Hotel as crews film Gordon Ramsay's FOX series, Hotel Hell. Getting the show to film in Calaveras took several months.
Calaveras County Visitors Bureau Executive Director Lisa Boulton says she was approached by a casting producer months ago at an L.A. travel show. Boulton says she wasn't given many details about the show at first. Later information about how big the staff needed to be and that the hotel had to have a kitchen narrowed the choices down to two possible locations in Calaveras.
Each show features Ramsay exposing what he sees as unprofitable business practices in an attempt to bring new life to the business. Boulton's first pick turned down the show but the Murphys Historic Hotel accepted. Boulton says, "They scouted the area and did video interviews with everybody and eventually decided that they would cover the Murphys Historic Hotel."
Boulton says "I know that Hotel Hell being in town has had a little bit of an effect on Murphys. Right now people are hanging out hoping to catch sight of Gordon Ramsey."
The Hotel is closed to the public due to filming for a week. Boulton says the film crew should be leaving Wednesday evening and then the hotel will be open for regular business Thursday morning. It is not yet known when the show featuring Murphys Hotel will air.
Ramsay has been in three FOX shows that air in more than 200 countries worldwide: Kitchen Nightmares, Hell's Kitchen and Masterchef. Hotel Hell premiered last summer with 6 episodes listed on its website.
Special thanks to Becky Peterson for the photo of Gordon Ramsay in Murphys.