DUI Driver Hands Child To Stranger After Crash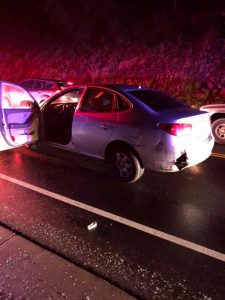 Car found running in middle of Mono Way

View Photos
Sonora, CA – Sonora police report that nearly 30 calls came into dispatch last Friday night regarding a reckless driver in a Hyundai sedan with no headlight on, going about 100 mph and finally hitting a guardrail on Mono Way.
When officers caught up to the vehicle near the Hospital Road intersection it was stopped in the middle of the roadway. The engine was still running and the driver side door was open, but the driver was gone. Witnesses told officers that the driver, later identified as 37-year-old Jack Martin of Sonora, initially jumped out of the sedan and ran, but returned moments later to retrieve his four year old child from the front seat. Police spokesperson Sgt. Tim Wertz revealed, "We later found out that the child was not restrained in a child safety seat. He [Martin] was basically holding the child, I'm not sure how, but he was holding the child in the vehicle himself."
A woman then told officers that Martin had flagged her down and handed the child to her. Sgt. Wertz reports that Martin and the woman did not know each other stating, "They were complete strangers." Martin then jumped a railing and headed down Hospital Road. He was caught in that area a short time later by a Tuolumne County Sheriff's deputy assisting police.
Martin faces charges of felony child endangerment, driving under the influence of drugs and causing a hit and run accident. His bail is set at $10,000.
The child was not injured during the incident and was released to a family member that night.