Tuolumne County Supervisors Identify Priorities And Focus Areas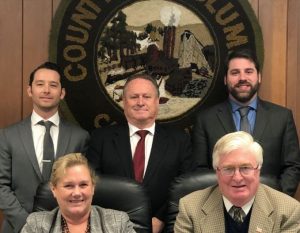 Tuolumne County Supervisors

View Photos
Sonora, CA — At today's supervisors meeting, Tuolumne County leaders spoke about the results of a three day planning retreat held at the Rush Creek Lodge.
It was a unique opportunity for the supervisors to meet and speak directly with department heads in a more relaxed setting.
The board decided in 2019 to again make public safety and roads the top two priorities. The supervisors then developed six additional focus areas. From an external perspective, priorities will include fire preparedness, road improvements, helping vulnerable populations (aging, homeless, children, etc.) and making land use update ordinances in correlation to the newly approved General Plan. The remaining internal focus points will be employee development and improving county infrastructure (buildings, IT, etc.)
Over the course of the next 12-18 months, staff will be tasked with focusing on the six areas. In addition, there will be quarterly reports to the board this year about needs and time constraints of department heads.
Supervisor Anaiah Kirk praised the county staff, and requested that the six bullet points be printed out and hung on the walls of the various departments. Supervisor Sherri Brennan added that she has been involved in six of the planning retreats, and this year's outcomes were notably evident. Board Chair Karl Rodefer also added that he feels this was the most productive retreat he has attended. He added, "The three days that we spend doing this every year is the best investment that we make in the board's time, and I think the staff's time, as well. It does give us a unique opportunity that we can't do any other way, that I know of, to really build 'Team Tuolumne County,' which is what I believe our county government ought to be."