Newsom Redirects National Guard Fed Border Operations To Other Duties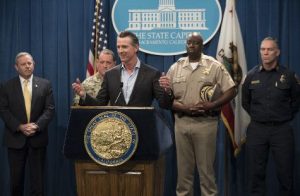 CA Gov. Gavin Newsom

View Photos
Sacramento, CA – Calling President Donald Trump's U.S.-Mexico border "emergency" a "manufactured crisis," California's governor rescinded previous authorization for state National Guard members to perform federal security duties.
In announcing on Monday that he has issued a new General Order to take the place of two orders previously made by former Governor Jerry Brown, Governor Gavin Newsom stated that California personnel would not be part of what he described as "political theater," instead redeploying members to focus on "real" threats and emergencies facing the state.
Last week, the president announced plans to deploy 3,750 U.S. military personnel to the border. Newsom's order cites the move as more reason to reprioritize the state's National Guard deployment away from operations traditionally performed by the Department of Homeland Security. "This is our answer to the White House: No more division, xenophobia, or nativism," Newsom said.
Newsom, who in his position serves as the Commander-in-Chief for the California National Guard, explained that for about 360 members of the California National Guard now working at the U.S.-Mexico border at the request of the White House for help in federal government in border operations, new plans are to draw them down by March 31, and specifically reassigned them.
Redirecting Guard To 'Real' Threats
According to the order, 110 personnel will help CAL Fire prepare for the upcoming fire season through supporting fire prevention and suppression efforts. Another 150 will expand the Guard's federally funded, state-coordinated Counterdrug Task Force (CDTF), and 100 will focus in on conducting counter narcotics search and seizure operations targeting transnational criminal organizations around ports of entry.
Providing more rationale in his order for his decision, the governor noted that while sending a surge of U.S. troops to the border, the federal government has underinvested in federal land management in California even as the state continues to face an unprecedented number of natural disasters — including wildfires — for which the state National Guard serves a critical role.
He also provided details of CDTF's work on the southern border, coastline and across the state addressing the drug and firearm trafficking activities of violent transnational crime organizations, which are among the root causes for migrants making claims for asylum.
In a related move, Newsom sent a letter to Acting U.S. Secretary of Defense Patrick Shanahan requesting the federal government's financial support to expand the CDTF, starting with – but not limited to – redeploying 150 personnel from the border. The governor cited in his communication that in 2018, CDTF made illicit drug seizures valued at $2.2 billion, delivering a high-value and high-investment-on-return program — despite a decline in federal funding from $27 million the previous year to $24 million in 2018.