Traffic Signal Going Live In Jamestown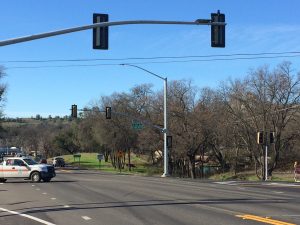 New Jamestown Traffic Light

View Photos
Jamestown, CA — If you are traveling on Highway 108/49, be prepared to stop at a new traffic signal.
Caltrans reports that the finishing touches were being done late yesterday afternoon at the intersection of 5th Avenue.
Tuolumne County hired Sierra Mountain Construction to handle the $2.3-million traffic light project and workers were putting up the final signage yesterday and connecting electrical components that will keep the lights operating.
The project was developed after a 2012 traffic study determined that traffic lights would be beneficial at the intersection due to the heavy amount of traffic.
Caltrans asks that you be prepared for the new signal the next time you pass through the 5th Avenue intersection of Highway 108/49.