Fall Drawdown Plan At Pinecrest Now Underway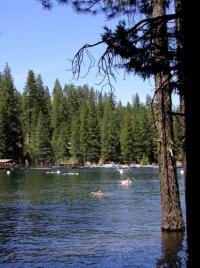 Pinecrest

View Photos
Sonora, CA — PG&E reports that it will begin to draw down Pinecrest Lake more heavily this week as part of its annual post-Labor Day schedule.
Utility spokesperson Brandi Merlo shares, "We are targeting an end of year elevation of 5,568 feet, although this is highly dependent on weather and likely to change as the season progresses." PG&E files a "draw down curve" plan each spring with the U.S. Forest Service and California State Water Resources Control Board (SWRCB) that outlines monthly level estimates through the winter. However, this year it also filed an updated plan, as officials observed more water loss than expected during July due to unusually high temperatures.
PG&E has a right to use the water in Pinecrest Lake for the production of hydroelectric power. "It is quite common for the actual drawdown to deviate from what we file in April as the system is highly weather dependent and we have no control over temperatures, precipitation, etc. We do take our license and water delivery obligations very seriously and manage the water with those goals in mind," Merlo explains.
During the recent drought years TUD, which does not have a water right at Pinecrest, advocated that the drawdown curve be tied to the amount of snow produced during November and December with more held back in drier years so that the district is less dependent on customers taking emergency conservation measures at those times to ensure sufficient supplies. As the lake is drained for energy production the district relies on yearly precipitation and essentially starts at square one there each water-year.
We recently reported that the Tri-Dam Partners released the fall drawdown schedule for Lake Tulloch, which can be reviewed here.