Good Test Results But Still No Drinking Water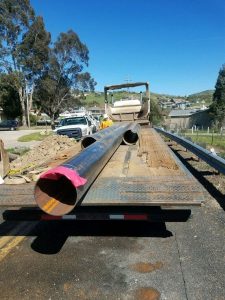 Lake Don Pedro Community Services District Repairs

View Photos
Don Pedro, CA — Although the water system is repaired and taps are working, Lake Don Pedro Community Services District officials warn — do not drink the water.
With the good news that all twelve water samples are negative for bacterial contamination in the affected areas of the Laredo water main break, water can flow from the faucet, but state water officials still want to wait to lift the "Do Not Drink" order. Their reason is that the district is still awaiting the final water sample results from the Ranchito water main break area. The state does not want to lift the order until all results are in to avoid any confusion among customers.
As reported here Wednesday, district officials announced that one round of water samples for bacteriological testing was completed by an independent laboratory and the results came back "CLEAR, CLEAN and EXCELLENT." 250 customers were impacted by the roads and flooding damage from Thursday's storms. The district is hoping to get the final results today so customers' taps can be turned on by tomorrow (Friday).