Four Prospective Candidates Thus Far For Sonora City Council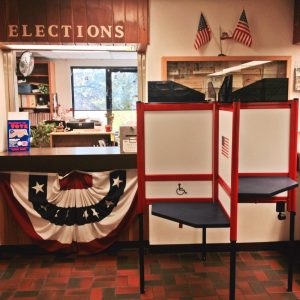 Tuolomne County Election Office

View Photos
Sonora, CA — Additional people have recently stopped by the Tuolumne County Elections Office to begin the process of becoming a candidate for Sonora City Council.
There will be two seats on the ballot this June. They are currently held by Jim Garaventa, who is seeking re-election, and George Segarini, who is declining to run again. Those who have begun the process, via taking out nomination papers, include Garaventa, Kurt Bryant, Colette Such and David Axelrod. Since the incumbent Segarini is not seeking re-election, the deadline to file papers will be Wednesday, March 14. In local races where the incumbent is running, the deadline is this Friday, March 9.
There have been no recent changes in the prospective candidates for the board of supervisor races in district two and three. In district three, where incumbent Evan Royce is declining to seek re-election, prospective candidates that have begun the process of qualifying for the ballot include Laurie Sylwester, Anaiah Kirk, Aaron Rasmussen and Merv Cancio. Kirk is the only candidate to this point to finish the process and qualify for the ballot. The other candidates have until next Wednesday to do so. In the District Two race, the prospective candidates include incumbent Randy Hanvelt, Paul McNaul, Dave Titchenal and Ryan Campbell. Hanvelt and Campbell have both completed all the paperwork and qualified for the ballot.  The other candidates have until Friday to do so.