Sierra Nevada's Pleasant Fire Nears Containment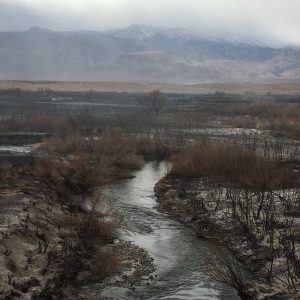 Pleasant Fire Feb 23 2018

View Photos
Inyo County, CA — The Pleasant Fire on the eastern slopes of the Sierra Nevada is now reported as 85 percent under control with full containment expected sometime tomorrow.
Officials lifted evacuations and as of this afternoon CAL Fire measured the blaze as 85 percent contained at 2,070 acres. Fire officials report over 300 firefighters are working the incident, located north of Bishop, a former mining town whose population is roughly 3,800. The fire ignited last weekend north of the town near the Pleasant Valley Reservoir and Highway 395, threatening hundreds of buildings, including historic structures, and scorched three-and-a-half square miles of chaparral bush and shrub oak.
Some road closures are still in place: Brockman Lane north of Highway 395;, 5 Bridges, Pleasant Valley Reservoir and Jean Blanc roads; also Dixon Lane, west of housing area towards Brockman. Pleasant Valley Campground is closed with escorts by the Inyo Sheriff's Office for emergency necessity only. Pit Campground is also closed with escorts available to retrieve belongings through the Bureau of Land Management.
This latest wildfire comes as California has seen some record-high temperatures and little rain after emerging from a five-year drought, recently helping fuel some of the deadliest and most destructive wildfires in the state's history. U.S. drought monitors this month declared parts of Southern California back in severe drought.