Tuolumne County Facing Projected 2018/19 Budget Shortfall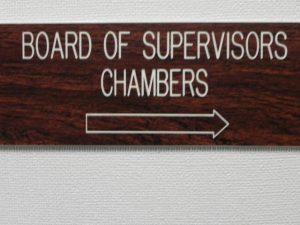 Tuolumne County Board of Supervisors Sign

View Photos
Sonora, CA — The Tuolumne County Board of Supervisors received an early snapshot of the 2018/19 budget projections, and it appears as though county leaders will have to close a roughly $4.2-million shortfall.
Board chair John Gray stated, "I know we have been here before, so I have the faith in everybody that we will recover from this. It is not like we're going bankrupt, or the sky is falling, or anything like that. It is just a problem…faith in everyone to do their jobs and we'll get out of this."
County Clerk and Auditor-Controller Debi Bautista countered that she is concerned that expenses have outpaced revenues over recent years, exhausting some reserve funds. She added, "In a very short period of time, we are going to have more county costs just to operate the new jail. We have commitments to our staff for MOU's. If making 3 and 5 percent cuts would have solved the problem, we would not be here today, because that's what we did last year, and the problem is about the same as it was a year ago. If we don't address the fact that our expenditures in the General Fund are outpacing our revenues, and materially growing every year, we are going to have a problem."
Tough decisions will have to be made over the coming months. The county is planning to further investigate ways to increase revenues and also cut expenses. Items could include implementing recommendations from a new user fee study, targeting economic development efforts, considering new revenue measures, refinancing PERS safety side fund loans, making targeted reductions, looking at intergovernmental partnerships, conducting collective bargaining, etc.
The 2018/19 preliminary budget must be approved before July 1st.