Request For More Detailed Solution To Regulating Marijuana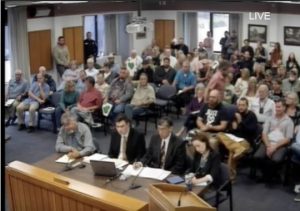 Supporters of Marijuana regulation in the Board of Supervisor's meeting room

View Photos
Sonora, CA — Following statements from over twenty supporters in favor of not banning all outdoor marijuana growing, Tuolumne County Supervisors reached a consensus that it is time to draft an ordinance regulating non-commercial marijuana land use. The Supervisors agreed they know the issues well and can write out a proposal for various groups to review. The proposal would be further discussed at an evening joint Board and planning commission meeting possibly as soon as November.
Those in support of marijuana took issue with the Board's direction at the last meeting in September to limit the total amount of marijuana that can be grown to six plants, whether its medical or recreational, with no outdoor growing. Those in support of outdoor marijuana growing cited their personal medical needs, stating in some cases six plants would not be enough. It was also stated repeatedly that growing marijuana indoors is more expensive and less desirable.
The Board of Supervisors' meeting room was filled to capacity, two individuals spoke in favor of the ban on outdoor growing.  About 20 people held signs with green hearts on one side to show support and a red x on the other side when they disagreed. Several times objections from the crowd were met with swift rebuke from the Board.
The medical marijuana working group presented a cost estimate for enforcing a ban on outdoor growing of $477,000. Below is the breakdown minus an additional cost of an additional county council and their legal assistant roughly estimated at $100,000 and $50-60,000 respectively.
| | |
| --- | --- |
| Resources | Approximate Cost (total salary) |
| One additional Code Compliance Officer | $60,000 |
| One part-time Code Compliance Officer during the marijuana growing season (May-October) | $30,000 |
| One additional administrative assistant dedication to the Code Compliance program | $47,000 |
| Four fulltime staff for the Sheriff's Office (Community Response Team) | $340,000 ($85,000 per staff) |
| Estimated Total | $477,000 |
For multiple reasons several supervisors backed down from the total ban proposal and requested a detailed draft ordinance with more nuanced and detailed proposed regulations.  District 3, Evan Royce outlined a permitting process, perhaps renewed seasonally, that would charge a minimal fee which would provide a directory of parcels that could be used when complaints were made. It would provide a packet to inform and designate an approved the location of where a proposed marijuana grow is located setback 50-feet from property lines.  District 4, John Gray spoke in support of including a way to allow variances for users to allow more or less plants based on their needs with consideration of neighbors' complaints.
The supervisors indicated that they are getting twice as many complaints about marijuana than in support of it. District 1, Sherri Brennan defended the board's decision and need to take a step back due to neighbor versus neighbor fighting related to smells and large marijuana grows in neighborhoods.
The board of supervisors previously voted 4-1 to reduce the amount of marijuana a resident can grow, medical or recreational, and banned all outdoor growing. Tuolumne County's existing rules, specifically on medical marijuana, have allowed for a patient or primary caregiver to grow up to 12 marijuana plants outdoors or 24 plants indoors. If two or more patients or caregivers reside on a parcel, the cap increases to 24 outdoor plants.
The first issue was specifically related to harmonizing personal medical and non-medical marijuana and cultivation enforcement of cannabis related violations. The Supervisors are also addressing commercial marijuana growing next. Both issues present a cost to enforce regulations and deal with cannabis related violations, related to prosecution and lawsuits.