Roundabout To Replace Stop Signs To Keep Traffic Moving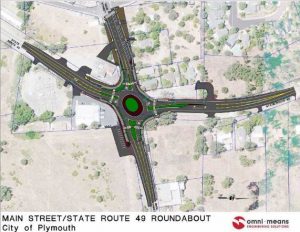 Caltrans draft of Pymouth roundabout in Amador County

View Photos
Amador County – Caltrans and Amador County are teaming up to enhance tourist travel on Highway 49 by switching out stop signs with a roundabout in Plymouth.
Caltrans is partnering with Plymouth and the Amador County Transportation Commission and broke ground on the project Friday at the intersection of the highway, Shenandoah Road and Main Street. The total price tag for the project is $6 million. Caltrans is also placing pedestrian islands at the four entrances to the roundabout, for those needing to stop after crossing one lane of traffic to make it safer.
"We've promised California new solutions to old problems and this roundabout is another step in that direction," said Caltrans District 10 Director Dennis T. Agar, noting it will be the first roundabout on a state highway in the Sierra Gold Country. "The numbers show roundabouts reduce accidents, while enhancing a community."
The total price tag for the project is $6 million. It is slated to be completed in the spring of 2018. George Reed Construction of Modesto has been hired to do the work.