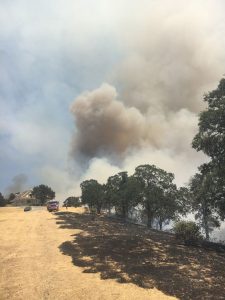 Quail Fire burning in Valley Springs

View Photos
Valley Springs, CA – CAL Fire reports the Quail Fire that was burning oak and brush in the Quail Oaks Road and Oak Hill Drive area between Highways 12 and 26 near La Contenta Golf Course is 100 percent contained.
As reported here, CAL Fire determined a person using a push lawn mower sparked that blaze and a citation was issued. The fire grew from 20 to 50 acres in a couple of hours. It threatened 35 residents forcing mandatory evacuation orders shortly after the fire broke out around 1 p.m. on Wednesday. Resources were battling the blaze for several hours before they were able to stop the flame's forward rate of spread around 5:30 p.m. By Wednesday night firefighters had attained 55 percent containment on the fire.
The total acreage at full containment was 59.