A Gold Rush At The State Fair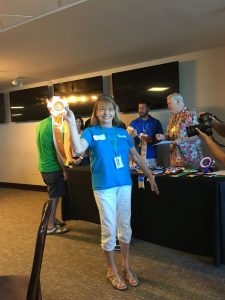 TCVB Marketing Special Projects Coordinator Anna Davies is holding the ribbons
Sacramento, CA – The Tuolumne County Visitors Bureau (TCVB) reached a milestone as Friday night marked a decade of gold ribbons for its eye-popping and informative booths at the California State Fair.
According to TCVB Marketing Special Projects Coordinator Anna Davies, this is the tenth win in a row for the bureau's booth. Every year, a new display must be built in order to meet the annual theme. Besides the gold, the Bureau's booth, with the theme "Postcard Perfect, Memories in the Making," also grabbed the fair's best marketing award. Pictures and video of the booth filled with postcards showing the beauty of the Mother Lode and all the fun adventures to be had here are in the image box.
The awards were handed out during a ceremony last night in Sacramento attended by Tuolumne County Representatives Lisa Mayo, Anna Davis, Jennifer Lopez and Ronaldo Pascuall. The builder of the booth was Richard Bay.
The State Fair is located at the Cal Expo Grounds east of Sacramento. It runs through Sunday, July 30th. Click here for the fair schedule.