Republicans Praise Newsom's Call For CEQA Reforms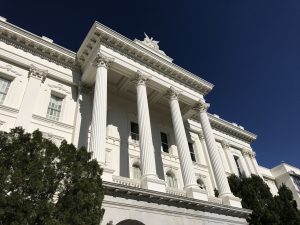 California State Capitol Building

View Photo
Sacramento, CA — California Governor Gavin Newsom is calling for significant reforms to the California Environmental Quality Act (CEQA) to speed up the construction of projects like roads, bridges and water infrastructure.
CEQA was signed into law in 1970 as a tool to protect natural resources, but over the years critics have argued that it has become too easy for opposition groups to use it as a mechanism to unnecessarily slow or halt development projects. Often times projects are held up in court to the point that they are no longer cost-effective.
The Governor's plan includes streamlining review processes, expediting court reviews, speeding up permitting, and addressing other "cumbersome CEQA processes across the board."
Newsom says, "This proposal is the most ambitious effort to cut red tape and streamline regulations in half a century."
Specifics are sparse, but the Governor will be releasing more details over the coming weeks.
He added, "If we get nothing else done in the next three years, this may be one of the most consequential things that we can actually deliver."
California Republicans, who regularly argue for CEQA reforms, are embracing the Governor's statements.
Mother Lode District 8 Assemblymember, Jim Patterson, says, "I hope he is serious about this, because if he is, Central California, and the state as a whole, is going to see some improvements and good jobs.  Sites (Reservoir) will be under construction, our roads, highways and streets will be improved, and we'll see broadband and high-speed internet."
Patterson added, "I hope he is as good as his press conference, and as good as his press release. Because, sometimes, he says things that don't come true. I hope he is serious about this."
Senate GOP Minority Caucus Chair, Janet Nguyen, noted, "California Senate Republicans have been at the forefront of the CEQA reform movement for years. As evidenced by our extensive legislative track record, we are eager to move California forward in this arena so we can build more housing, water storage, and sensible infrastructure projects in a reasonable timeframe and without costly settlements."