Town Hall On Copperopolis Community Plan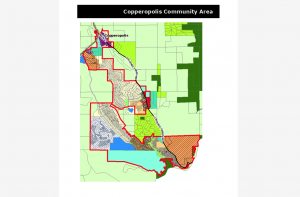 Copperopolis Community Plan

View Photo
Copperopolis, CA — Later this week will be a town hall meeting focused on a proposed Copperopolis Community Plan. It is being hosted by District Four Supervisor Amanda Folendorf and the Calaveras Planning Department. It will start at 6pm on Thursday at the Armory Building in Copperopolis.
You can find more details about the proposed community plan by clicking here.
According to the county, "The purpose of the community town hall meeting is to discuss the comments received on the proposed Community Plan and to formulate a format and contents for the community plan that is consistent with the format and contents of the other Community Plans that have been included in the County's General Plan."
You can forward any questions or comments you may have to: Gabriel Elliott, Director of Planning, Calaveras County Planning Department, 891 Mountain Ranch Road, Building "E", San Andreas, CA 95249, or by email at GElliott@co.calaveras.ca.us.