25 Newly Certified Naturalists At Calaveras Big Trees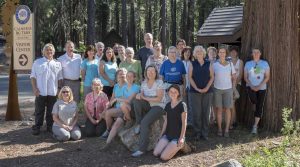 California Naturalist Program Graduates At Calaveas Big Trees State Park

View Photos
Calaveras County, CA — Using Calaveras Big Trees State Park as a setting to learn about the wonders of the natural environment, 25 students recently completed a California Naturalist Course.
The Calaveras Big Trees Foundation was a key sponsor of the program, working partnership with the park, and the State of California's Division of Agriculture and Natural Resources.
According to the foundation, the students completed 40 hours of class, immersing themselves in the geology, hydrology, wildlife, forests, climate, and ecology of California, with a focus on the Sierra Nevada. They deepened their learning with readings and hands-on projects and activities.
Local residents Wendy Harrison and Dexter Hardcastle led the course, bringing in professors and experts for each content area. The graduates are part of a growing community of California Naturalists who can now share what they learned with others in the region, and across the state.
To find out more about the program, you can click here.