California's April Jobless Rate Up Slightly, Mother Lode's Drops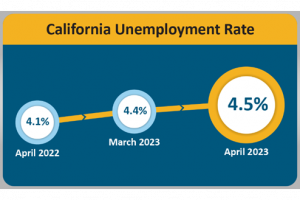 California unemployment Chart for April

View Photo
Sonora, CA – California's unemployment rate increased slightly, while the Mother Lode saw a decrease.
Data released today by the California Employment Development Department (EDD) from two surveys show a 0.1 percent rise between March and April to 4.5% as the state's employers added 67,000 nonfarm payroll jobs to the economy, with a monthly average gain of 86,667 jobs since April of last year.
The Mother Lode's labor market numbers went in the opposite direction, with Tuolumne County decreasing from 5.6% in March to 4.9% in April. Calaveras fared even better, dropping from 4.6% to 3.9%, respectively.
Ten of California's 11 industry sectors gained jobs in April. Leading the way was private education and health services (+21,700), and these sectors followed:
Leisure and Hospitality (+13,100)
Trade, Transportation, and Utilities (+10,300)
The only sector to show a loss was mining and logging (-100). However, EDD officials noted that the industry's job totals retained a net gain (+300) when compared with job numbers from April 2022. The national jobless rate was down from 3.5% in March to 3.4% last month.