Possible Help For Costly Tree Removal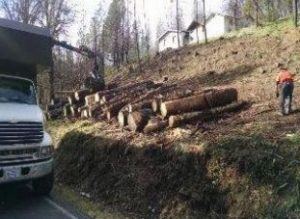 Tree removal

View Photos
Calaveras County, CA — A lengthy list is out that shows property owners where to go for grant dollars to bring down hazardous trees.
Calaveras County reports that over 102 million conifers and hardwood trees have died since 2010 due to California's five year drought and Bark Beetle infestation. The latter prompted Governor Jerry Brown to declare a State of Emergency nearly two years ago due to the wide spread severity. County spokesperson Sharon Torrence indicates that this past week the county's Tree Mortality Task Force was alerted to additional grants that may apply to private property owners through their home owners associations, Fire Safe Councils or other property owner groups.
"What people need to do is to check out the different websites and read the information," says Torrence.  She further details, "They're going to have to do some digging but there are dollars available for tree removal in these grants."
Torrence adds that not all of the grants apply to tree removal so the public will have to sift through the list. To view the list click here.